Big Meat Braces for a Refugee Shortage
Trump's immigration restrictions will leave more jobs unfilled.
By and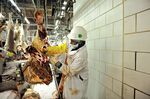 Word of President Trump's executive order barring the entry of international refugees shocked Fort Morgan, a town of 11,000 on the snowy plains of Colorado, some 80 miles northeast of Denver. Many of the workers at a Cargill Meat Solutions plant that's the town's largest employer emigrated from Somalia and Myanmar and had been waiting months, if not years, for relatives to join them. Now they're afraid that reunion might never happen. As a result, the plant in Fort Morgan and other meatpacking plants in the U.S. that have dozens of openings may have to scramble to find a new labor pool.
"The refugees that have family members, they're worried that they're never going to be able to come here," says Ryan Gray, program director in the Greeley, Colo., office of Lutheran Family Services Rocky Mountains, a faith-based group that helps refugees and asylees obtain jobs, housing, and other services. Of the almost 450 individuals Gray's office helped resettle last year, about 40 percent got jobs at the Cargill plant in Fort Morgan or a rival JBS facility in Greeley.
Trump's decision to sharply curtail the number of refugees admitted into the U.S. may lead Big Meat to recalibrate its recruitment practices. While a federal court has temporarily suspended the administration's four-month ban on new arrivals, not affected is Trump's plan to slash refugee admissions from 110,000 to 50,000 in the current fiscal year.
Refugees have been a fixture within the meat processing workforce since 2006, when immigration officials under President George W. Bush raided plants in several states, leading to the arrest of about 1,300 undocumented workers. Companies "realized that their business model of hiring undocumented people was causing problems for them," says Lavinia Limón, chief executive officer of the U.S. Committee for Refugees and Immigrants, a resettlement organization. "So they moved to the refugee population."
Immigrants hold 35 percent of the 441,000 animal slaughtering and processing jobs in the U.S., according to the U.S. Census Bureau. Census data don't specify what share of those immigrants are refugees; the Washington-based Migration Policy Institute estimates it's about 3 percent. Cargill spokesman Mike Martin says about 12 percent of employees at Fort Morgan hail from East Africa.
In statements, JBS and Tyson Foods, two heavyweights in the $29.7 billion U.S. processed meat industry, said they are proud of their diverse workforces. Cargill CEO David MacLennan in a Feb. 3 online column called for "smart, inclusive policies on trade and immigration." Barry Carpenter, CEO of the North American Meat Institute, a trade group, issued a statement on Jan. 27 that said, "As the administration pursues changes to the nation's refugee policies, we hope it will give careful consideration to the ramifications policy changes like these can have on our businesses and on foreign-born workers."
Cargill's plant in Fort Morgan pays its workers a starting hourly wage of $14.90—60 percent higher than Colorado's minimum wage—and offers health care and other benefits. Even so, a company spokesman says, "It remains a challenge to fully staff the plant." Eric Ishiwata, an associate professor at Colorado State University who studies the refugee meatpacking workforce in the area, says, "The plants have no choice but to recruit workers outside the region."

The issue took on new urgency after Dec. 12, 2006. On that day, U.S. immigration agents staged simultaneous raids on meat processing plants in six states—including one in Greeley. In the aftermath, area meatpackers began recruiting workers from Minneapolis, a city with a large population of Somali refugees. Almost overnight, Greeley was hosting more than 1,000 immigrants from East Africa who spoke little or no English and needed assistance finding housing and enrolling their children in school. Local officials reached out to the Colorado office of Lutheran Family Services, one of hundreds of local nonprofits across the U.S. affiliated with private refugee resettlement agencies that are contracted by the U.S. Department of State to help new arrivals become economically self-sufficient. The group immediately dispatched case managers to Greeley and within a year had set up a permanent office in town.
Limiting refugees alone may have a "marginal impact" on the meatpacking industry in the short term, says Randy Capps, director of research for U.S. programs at the Migration Policy Institute. Yet companies remain vulnerable to any actions that could further restrict the availability of low-skilled labor, he says: "It is one of the industries that stands the most to lose, depending on where the administration's immigration policy goes in the future."
Ann Corcoran, a Trump supporter who authors a blog called Refugee Resettlement Watch, says meatpackers would draw more native-born applicants if they raised their wages. She acknowledges that could lead to higher prices for consumers, but she says she and others could adapt: "I would be happy to eat less meat."
The bottom line: U.S. meatpackers that have become dependent on refugee labor may have to raise wages to recruit workers.
Before it's here, it's on the Bloomberg Terminal.
LEARN MORE