Abe to Propose That Trump Discusses Currency Issues at G-20, G-7
By
Abe to tell Trump that monetary policy not aimed at weak yen

Trump has criticized Japan over trade deficit, currency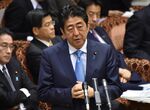 Prime Minister Shinzo Abe plans to urge U.S. President Donald Trump to discuss currency issues at international forums like the Group of 7 and the Group of 20 instead of seeking talks with individual countries, according to a Japanese government official.
Abe, who is set to meet Trump in Washington on Friday, plans to tell him that Japan's monetary policy is aimed at battling deflation and not at weakening the yen, according to the official, who asked not to be identified because the discussions were private. Trump last week accused Japan and China of devaluing their currencies while the U.S. looks "like a bunch of dummies."
Commerce Department data last month showed that Japan had overtaken Germany to have the second-largest trade deficit with the U.S. of any individual country besides China. Automobile imports amount to about 80 percent of the $69 billion deficit, according to the data.
Abe also plans to explain that Japan hasn't intervened recently in the currency market, the official said. The two sides intend to put out a consensus document on defense and the economy after the summit, the official said.
Creating Jobs
Abe is under pressure to preserve solid economic and security ties with the U.S., its primary military ally and second-largest trading partner after China. He has pushed back against Trump's criticism over currency policy and market access for automobiles, one of the key factors the president cited in withdrawing the U.S. from an Asia-Pacific trade deal last month.
Abe told parliament last week that he plans to discuss creating jobs and building infrastructure in the U.S. to help assuage Trump's concerns over trade. In parliament, Abe has said American cars don't sell well in Japan for reasons like a lack of dealerships and advertising. During his meeting with Trump, however, he plans to stress that Japanese automotive companies have directly or indirectly created 1.5 million jobs.
While the package may not offer much that's new, "Trump is not expecting the prime minister to come up with anything amazing, just to do something vaguely in line with his story" about job creation in the U.S., said Lully Miura, a lecturer at the Policy Alternatives Research Institute at Tokyo University. "He wants to make it look as though the Japanese prime minister came bowing to him with offerings."
Japan is set to propose the following ideas at the summit, which could create 700,000 jobs, according to the Yomiuri newspaper.
Investing in infrastructure, including high-speed rail in Texas, California and the Northeast corridor; cooperation on gas-fired power generation and nuclear power
Joint development of infrastructure overseas
Joint development of artificial intelligence and robots, including autonomous ships and planes
Cooperating in cyber and space fields
Cooperating on employment and defense
The Mainichi newspaper also reported that Japanese companies will consider buying more shale gas to reduce Japan's trade surplus with the U.S.
— With assistance by Connor Cislo, and Isabel Reynolds
Before it's here, it's on the Bloomberg Terminal.
LEARN MORE