A New Robo-Adviser Lets You Build Portfolios That Shun Guns and Oil Shares
Startup OpenInvest aims to build portfolios tailored to its customers' values.
By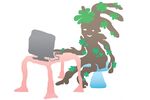 For many people, passively managed index funds have a powerful appeal: Buy one fund and be done. The 3,500-company Vanguard Total Stock Market Index Fund, for example, beats most funds in its category by owning essentially everything. But everything can also be a problem for those who want to put their money only into companies that are consistent with their values. For example, it means a liberal owning shares in gunmakers Sturm Ruger and American Outdoor Brands or companies that produce fossil fuels. You may be able to #deleteUber from your phone, but you can't call your index fund managers and ask them to extract ExxonMobil from your portfolio.
The founders of OpenInvest, an online startup with backing from early-stage venture capitalist Y Combinator, think a cohort of newly moneyed millennials will be willing to pay extra for a passive investment that allows for more of a voice. They hark back to an older model of investing—people choosing stocks directly, rather than getting them through diversified funds. "It used to be that investing was like owning a piece of that factory or that building next door and saying, 'I'm going to make some decisions that reflect what I care about,' " says Chief Strategy Officer Joshua Levin, 37, who joined OpenInvest in July from the World Wildlife Fund.
There have long been mutual funds that include social factors among their stock-selection criteria. The difference is that OpenInvest allows customization. Similar to so-called robo-advisers Wealthfront and Betterment, OpenInvest allows users with at least $3,000 to invest to pick a mix of stocks and bonds based on their age and comfort with risk. The portfolio is periodically updated and rebalanced to stay on track.
But instead of buying stocks through index funds, as the other robos do, OpenInvest uses individual stocks. Users click through a series of menus to create an "issue profile," checking boxes to select investment themes—such as gender equality or reduced carbon emissions—as well as groups of companies to exclude. The preset screens lean left. Users can nix weapons manufacturers, tobacco companies, and even those whose executives have backed Donald Trump.
Based on those preferences, OpenInvest creates a basket of more than 60 stocks that both jibes with its customers' wishes and should, the company says, track the broader market. It balances factors such as size, sector, and each stock's sensitivity to the market's ups and downs. OpenInvest says it's still passive because beating the market isn't a goal.
Chief Executive Officer Conor Murray, 33, spent almost eight years building trading and analytics systems for Bridgewater Associates, the giant hedge fund manager in Connecticut. Looking for a chance to create something, he moved to California in 2014 without a new job lined up. There he connected with Phil Wei, 33, another Bridgewater alumnus. "Everyone who got fed up with the East Coast hustle after a few years just wanted to move out to California and have a positive impact on the world," says Wei, OpenInvest's chief technology officer.
They've entered a crowded field of online advisers. After launching in September, the company runs $2.5 million in assets. Wealthfront and Betterment have gathered about $5 billion and $7 billion, respectively. Brokerage giant Charles Schwab has also gotten into the mix, and money managers Vanguard, Fidelity, and BlackRock have all started or acquired similar services. "The big firms have deeper pockets, a lot more assets on the platform already that they can dedicate to their robo strategies," says Alois Pirker, director for research at Aite Group's wealth management practice. Carving out a niche may be a startup's best shot at survival. "Socially responsible investing is absolutely somewhere you can differentiate," he says. "And also a place where you can make yourself attractive to possible acquirers."
To be attractive to clients, OpenInvest will have to show that its custom portfolios do about as well as the market over time. For now, investors have to have faith in the company's algorithms. Index funds, by contrast, have decades-long records. Levin, the chief strategy officer, points to the work of Murray and Wei with "some of the most complex portfolio construction systems in the world" at Bridgewater.
OpenInvest costs 0.5 percent of assets per year. That's less than many actively managed funds but more than basic index funds. For example, the Vanguard Total Stock Market Index Fund charges 0.05 percent to 0.16 percent of assets a year, depending on the share class. Murray, Levin, and Wei say they'd like to bring down their fees as assets expand. They hope early adopters will accept the added cost as a fair trade for the ability to tailor their portfolios. "We see this mainstreaming of sustainable investing as part of the antidote to a lot of the mind-numbing corruption that we see in the current Wall Street culture," says Levin.
The bottom line: Former hedge funders are bringing social responsibility to online investment advising, with some added cost and complexity.
Before it's here, it's on the Bloomberg Terminal.
LEARN MORE