Trump 'Game Changer' for Optimism Over Emerging Assets, IIF Says
by
Cuts non-resident capital flows forecast by $90 billion

Institute sees severe disruption if trade measures introduced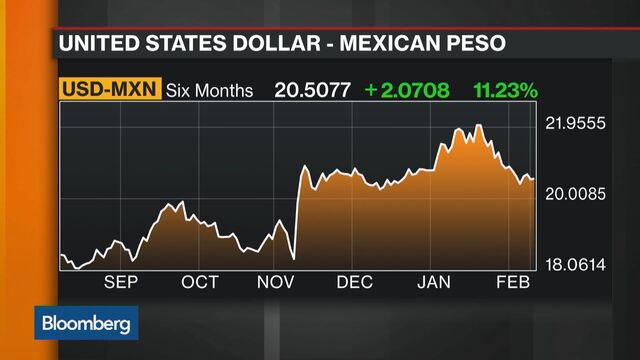 Investors returning to emerging markets this year amid an improving economic-growth outlook must brace themselves for political turbulence unleashed by President Donald Trump's U.S. election win, according to the Institute of International Finance.
The Washington-based research institute warned of a "Trumpstorm" as it cut its forecast for non-resident capital flows to emerging markets by $90 billion in 2017 to about $680 billion. The reduction accounts for the potential for more protectionist trade measures from the world's biggest economy since Trump's election victory in November, IIF economists including Ulrik Bie and Peter Nagle wrote in an e-mailed report.
Further headwinds may come from upcoming elections in France, where a nationalist candidate is gaining popularity, they said.
"Trump's victory has been a game changer for emerging markets," the economists said. "If harsher trade measures are introduced -- especially if aimed at the major economies -- the disruption to the global economy could be severe."
Following a brief pullback in the wake of Trump's election, investors are being lured back to emerging-markets this year by higher-than-average yields and prospects for increased economic growth. The IIF projects gross domestic product in emerging markets to increase by 4.5 percent next year, up from 3.8 percent in 2016, provided there are no major external shocks.
MACRO VIEW: Some Emerging Markets Are Havens. Until They're Not
Economic growth is vulnerable to "a number of channels through which changes in U.S. policy could spill over such as exports, remittances, and financial flows"
Egypt, Argentina, China, Chile, Ukraine, Indonesia most exposed in 2017 due to financing needs, reserves; asset valuations "stretched" in Chile, Egypt
Czech Republic, Russia, Colombia, Philippines, Korea have adequate reserves, low financing needs, little exposure to U.S. other than Korea
"The global economic outlook remains very uncertain, with an almost binary outcome likely to be determined by the severity of the protectionist measures to be introduced by the new Trump Administration and the outcome of the French presidential election," IIF economists said.
Before it's here, it's on the Bloomberg Terminal.
LEARN MORE