business
Trudeau Heads to Visit Trump, Leaving 'Dudeplomacy' Behind
By and
Canadian prime minister to meet U.S. president on Monday

Trade policy may become flashpoint after warm ties under Obama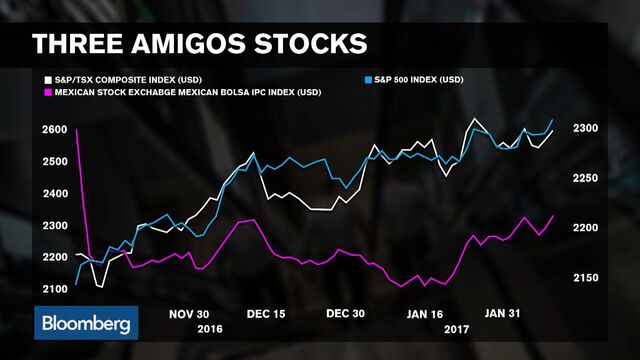 Canadian Prime Minister Justin Trudeau and U.S. President Donald Trump will meet for the first time next week as the new administration's protectionist push threatens $541 billion in annual trade between the countries.
Trudeau will visit the White House on Monday, according to a statement from the prime minister's office. The visit is expected to be a far cry from the warm state dinner thrown by Barack Obama for the Canadian a year earlier -- a close relationship Trudeau later termed "dudeplomacy."
On this visit, thorns loom large. The U.S. pledge to renegotiate the North American Free Trade Agreement prompted Trudeau to shuffle his cabinet to mount a wide-reaching lobbying effort to preach the gospel of Canadian trade. A Trump ally sought to reassure Canada in January that its trade ties -- roughly in balance -- were not the primary target. 
Finance Minister Bill Morneau, in Washington himself Thursday, signaled Canada is willing to renegotiate and improve Nafta but emphasized the benefits of the existing trade deal. "Seeking improvement? We're on board for that," Morneau said at Georgetown University. "We're keen on moving forward in discussions so that we can have clarity for organizations as they seek to make investments locally or internationally."
Details of the Trudeau-Trump meeting weren't immediately released. The two leaders "look forward to a constructive conversation on strengthening the relationship between our two nations," according to a White House statement.
Trade Concerns
Foreign Minister Chrystia Freeland visited Washington ahead of Morneau, finding a receptive ear in meetings with Secretary of State Rex Tillerson and House Speaker Paul Ryan, among others. She told reporters afterward Canada won't shy away from a fight and is "strongly opposed" to new tariffs, but that she was "pushing on an open door" with the new administration.
The tone coming from the Canadian government has nonetheless been overwhelmingly conciliatory, as Trudeau -- an avowed feminist, who is pro-trade and pro-refugee -- generally avoids critiques of the U.S. president. The prime minister's communications director, Kate Purchase, said by e-mail the leaders will discuss "how we can continue to work hard for middle class Canadians and Americans, together."
That approach is understandable, given the nature of bilateral ties. "The message is, quite clearly, we're going to work with this administration, we're going to work with whomever is in the White House, because it is in Canada's interest to do so," said Fen Hampson, a professor of international affairs at Carleton University in Ottawa.
Drake and Bieber
Many industries are at stake. Any Nafta renegotiation could upend the auto sector, with its supply chains deeply interwoven through the U.S. and Mexico. Canada is the top supplier of foreign oil the U.S. and the countries are already at odds over softwood lumber. Canada's ambassador to Washington, David MacNaughton, has said his goal is to avoid becoming "collateral damage" in Trump's trade fight.
Trudeau joked about Canadian popstar Justin Bieber in his visit to Obama's Washington a year ago. Morneau echoed that Thursday in a speech praising existing Canada-U.S. ties.
He described how a Ford transmission zigzags across the border repeatedly during its manufacturing, recalled eating chicken wings and watching the Super Bowl, hailed the hiring of U.S. workers by his own business before he entered politics, and cited Canadian stars such as Bieber, rapper Drake and actor Ryan Gosling.
"We're in your board rooms, we're on your playlist and obviously we're in your classrooms," Morneau told the university crowd. "Our sense is the future can be better, we can find opportunities to improve that relationship, and that's most certainly what I seek to do with my American counterparts."
Trudeau's top soldier, Harjit Sajjan, also visited Washington this week to meet Defense Secretary James Mattis as Canada grapples with Trump's push for North Atlantic Treaty Organization allies to hike military spending. Trudeau is due to travel to Europe after the Washington visit to address the European Parliament and meet with German Chancellor Angela Merkel.
(
Updates with details of Morneau visit from fourth paragraph.
)
Before it's here, it's on the Bloomberg Terminal.
LEARN MORE