Zuma Deploys Soldiers in Lockdown for State-of-Nation Speech
By and
Military to help South African police secure parliament

Clampdown shows Zuma's vulnerability, analyst February Says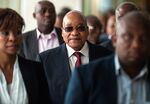 South African troops are being deployed in an unprecedented security lockdown of Cape Town's parliamentary precinct for President Jacob Zuma's annual state-of-the-nation address that's taking place in the face of mounting opposition to his leadership.
Zuma, 74, ordered 441 soldiers to help as many as 6,000 police "maintain law and order" during the event on Thursday, a deployment opposition parties and civil rights groups said was unnecessary and possibly illegal. The military has participated in past proceedings in a ceremonial capacity.
"Zuma obviously feels under siege," Judith February, a political analyst at the Institute for Security Studies, said by phone on Wednesday. "The increased security underscores that he is in a politically weak position. The general trend is that weak leaders use force to show they are still in charge."
The president has faced a succession of scandals, including a finding by the nation's top court that he violated the constitution by refusing to repay taxpayer money spent on his private home. Under his leadership, the ruling African National Congress suffered its worst-ever electoral performance last year, when it lost control of Pretoria, the capital, and the economic hub of Johannesburg. While he has said he'll step down as head of the ANC in December, his term as national president ends in 2019.
There is nothing unusual about the security arrangements for the speech, Secretary to Parliament Gengezi Mgidlana told reporters. Last year, lawmakers from the opposition Economic Freedom Fighters disrupted proceedings inside the National Assembly and delayed Zuma's address by about an hour.
Demonstrations Planned
Several hundred people protested outside Parliament's gates against Zuma a year ago, and at least two groups have applied to demonstrate on Thursday.
"Parliament has been steadily increasing security over the past three years, and this year it has reached unprecedented levels," February said.
Save South Africa, a group that's been campaigning for better government, drew several hundred people to a rally at St. George's Cathedral in Cape Town on Wednesday, where speakers criticized the crackdown and called for the president to step down.
"We must make sure that tomorrow is the last state-of-the-nation that Zuma addresses," Sipho Pityana, the group's convenor and chairman of AngloGold Ashanti Ltd., told the crowd. "We have to stop the Zuma nightmare and begin to dream again as a nation."
Before it's here, it's on the Bloomberg Terminal.
LEARN MORE