markets
Topix-Yen Connection Strongest Since 2013 Amid Slew of Earnings
By and
Investors looking ahead to Trump-Abe meeting, Okasan says

Energy producers drop as oil falls for third straight day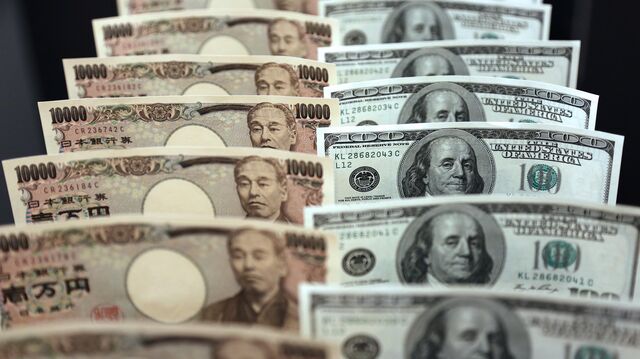 A lull in the yen's strength against the dollar gave Japan's stock investors a chance to focus on positive earnings results this week.
The 120-day correlation between the Topix index and the exchange rate is near the highest since June 2013, indicating that the two assets are moving almost in lockstep. The index erased a 0.1 percent decline to close up as the yen pared gains. Asahi Glass Co. led glass makers higher after its forecast beat estimates, while TV Asahi Holdings Corp. rose after boosting its full-year operating profit projection. More than 100 companies on the Topix were scheduled to report Wednesday. U.S. President Donald Trump and Japanese Prime Minister Shinzo Abe are due to meet on Friday in Washington.
"Japanese shares are being thrown this way and that by the yen," said Yoshihiro Ito, chief strategist at Okasan Online Securities Co. "There aren't that many major reasons to move on in Japan, and investors are waiting for the U.S.-Japan meeting. It's possible that the talks won't have any references to trade or currency policies though, and if that happens shares may end up being left directionless."

Energy producers declined as oil fell for a third day after industry data showed U.S. crude stockpiles expanded. JX Holdings Inc. may miss its profit forecasts for the fiscal year ending March as inventory gains level off, Bloomberg Intelligence analysts wrote Wednesday.
Summary
Topix +0.5% to 1,524.15 at the close in Tokyo
Nikkei 225 +0.5% to 19,007.60
Yen +0.1% to 112.28 per dollar after sliding 0.6% Tuesday
Fujitsu -3.8%, Fuji Electric -1.8% after cos. said they'll reduce stakes in each other
Mabuchi Motor +6.8% after reporting preliminary full-year net income at 20.6b yen, beating co.'s forecast for 13.5b yen
Yokogawa Electric -7.8% after 9-month operating profit -34% to 20b yen
Tomy +6.8% after lifting full-year operating profit forecast 75% to 7b yen
Tsubakimoto Chain +5.6% after reporting first net income growth in 5 quarters
Mitsubishi Chemical +5.1% after co. raises operating profit forecast for year ending March 2017
Other Japan market news:
U.S.-Japan Trade Deal Unlikely Topic at Summit, Abe Adviser Says
Japan Closes Out 2016 With Robust Current-Account Surplus (1)
Japan Dumps U.S. Sovereign Debt to Cut Losses as Yields Surge
BOJ Summary: Concern About BOJ Ability to Control Yield Growing
Before it's here, it's on the Bloomberg Terminal.
LEARN MORE