Photographer: James Mollison for Bloomberg Pursuits
Style
Venice's Jeweler to the Stars Is Also Its Best-Kept Secret
At Casa Codognato, the rich and famous shop for macabre, erotic, and cheeky totems.
By
Early one morning in the summer of 1973, Attilio Codognato got an urgent phone call from the Gritti Palace hotel. On the line was Louis Alexandre Raimon, the famous hairdresser better known as Alexandre de Paris. He had told his clients about one of Codognato's bracelets—a golden gem-eyed snake with a crown of diamonds—and they wanted to see it immediately. 
The clients? Richard Burton and Elizabeth Taylor. But Burton didn't want to leave the hotel, preferring to stay in and have a drink. Could Codognato come over as soon as possible? "So I went personally to see Liz Taylor, with those fantastic eyes," recalls Codognato, speaking with a thick Italian accent. "Burton was drunk, totally. But they bought the piece."

Now 79, Codognato could fill a book with these kinds of stories. His family's jewelry shop in Venice, known as Casa Codognato, has been a supplier of ornate, macabre jewelry for celebrities, artists, and royals since it opened in 1866. The Duchess of Windsor and Grace Kelly were clients, as were Ernest Hemingway and Maria Callas. Coco Chanel, he says, found one of her famous strands of pearls, made from light-colored jade, at the shop. The Damned movie director Luchino Visconti was especially loyal. "During the filming of Death in Venice, he came every day," says Codognato. "He never asked me the price. Each day he bought one piece, always a gift for somebody." Jeff Koons, Codognato says, bought a square green emerald ring for his first wife, the Italian porn star Cicciolina, around the time of the 1990 Venice Biennale. More recent fans include Damien Hirst and Nicolas Cage.
What these rich, powerful, and famous clients are drawn to is Codognato's elegant craftsmanship and designs based on the theme of memento mori—a Latin call to life that means "remember you must die." Supermodel Natalia Vodianova heard about him from fashion editor Carine Roitfeld and visited his shop for the first time with photographer Mario Testino while on a shoot for Vogue. Her Codognato items include an outrageous red enamel necklace with a storied past. "Apparently Gabriele D'Annunzio, a famous poet from the 20th century, gave it to his lover with a poem," Vodianova says. "That necklace had so much passion all over it and I had to have it."
Whether you're famous or not, wearing Codognato requires confidence. "You need an exceptionally strong sense of self and sense of style," says Diana Singer, president of the American Society of Jewelry Historians. In some ways, she says, Codognato's designs reflect trends in Italian jewelry. "French jewelry is exceptionally elegant, and German is correct, civilized. Italian jewelry tends to be a little over-scale and over the top, which is not a bad thing—it's a good thing for the person who can carry it off."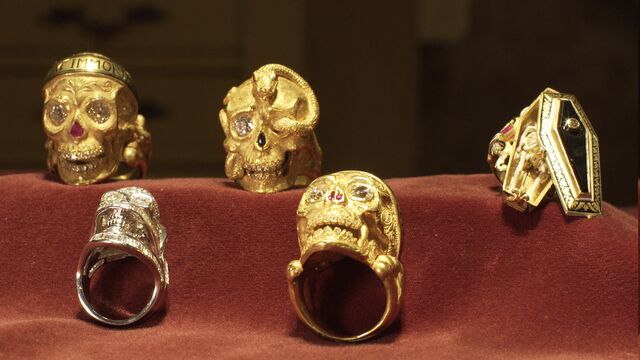 That said, Codognato's designs are audacious even by Italian standards. "Attilio is someone who can look at history, symbolism, hidden meanings," says Dominique Lévy, a New York art gallerist who owns lots of Codognato, including a skull ring. "When you wear his pieces, you wear not only something beautiful but something that feels like it has power." 
Fashion designer Anna Sui, who's traveled to Venice several times, says she was initially intimidated by Codognato's exclusive shop. "I was always fascinated by the store because it was like walking back in time," she recalls. "One day I got up the nerve to go in and Attilio was so friendly, and showed me everything in the shop. He let me try on everything." She ended up buying a skull ring and then, when Elizabeth Taylor's serpent bracelet went up for auction at Christie's in 2011, she bought that, too. "It's kind of powerful, so you don't wear it to the office," she says. "There's something very, very magical about it."
Francesca Bortolotto Possati, owner of Venice's five-star Bauer Hotel and a longtime family friend of Codognato's, also owns several pieces. "He could have opened stores all over the world but he chose to stay just in Venice," she says. Her most recent purchase is a different iteration of Taylor's golden snake bracelet. "He only made two of them. Nicole Kidman has the other."

Despite international demand, the Codognato family chose to focus entirely on one boutique. Located on a cobblestone street, steps off the Piazza San Marco and a block away from the Grand Canal, it sits across from a Chanel shop and next door to Hermès. The entrance isn't exactly welcoming. The door is locked, and heavy golden-beige curtains obscure two windows. Every so often, an elegant shop assistant wearing cat-eye eyeliner peers over the curtains, sizing up those who stop to inspect the storefront.
Her name, I learn, is Marella Loredonna, and she opens the door before I can ring the bell. Codognato stands waiting. "Welcome, sit," he says warmly, offering me an 18th century-style chair. White-haired, with a trim beard, he's wearing simple yet well-made clothing, and no jewelry except his father's vintage Cartier watch. His demeanor is kind, thoughtful, almost shy.
The cream-colored walls and ceiling are accented with ornamental, plant-like plaster molding, a stark contrast to the shop's austere exterior. Yellow lighting casts soft shadows on the stone floor, and the glassed-in shelves overflow with art books. One display case holds a black-and-white photograph of a young Diana Vreeland wearing a Codognato brooch. Another displays a drawing of a woman's hand with a gemstone bound to her palm—a piece given to Codognato by the artist Christo, who last summer installed saffron-yellow floating walkways across Italy's Lake Iseo.
Marella Loredonna brings over necklaces, earrings, and bracelets, laying them out on a red velvet tabletop, many shaped like skulls or snakes with gems for eyes. Codognato picks up a cigarette-box-size pendant depicting a skeleton behind bars. "I like to sell these difficult pieces," he says. "It's more my taste. You have to think about them."

"I prefer to have fewer customers but people who understand the work," he continues. "Sometimes there are five days when no one comes in, and sometimes there can be 10 people. It's impossible to know." During high tourist season and Carnival, he closes for weeks at a time, opting to stay out of the fray. "Carnival is not my taste," he says. Too many people, too uncivilized. In any case, few tourists could afford his jewels, which cost anywhere from $8,500 to $160,000, sometimes more. When the shop is closed, a brass sign on the door instructs patrons to contact the concierge at the nearby Bauer Hotel, where Codognato lived for several years in the 1960s before getting married.
Casa Codognato was founded by Codognato's great-grandfather, Simeone, who'd previously been a dealer of ancient paintings and objets d'art. Simeone's son, the first Attilio, born in 1867, trained as a jeweler and began designing elaborate pieces inspired by Etruscan treasures being dug up by archaeologists around that time. Some say he even fashioned pieces for pirates, melting down stolen gold to create jewels—but unfortunately the rumor isn't true. "No pirates, I'm so sorry," says Codognato, shaking his head and smiling. 
He won't say where the jewels are manufactured, only that it's in Venice. He has very few pieces made each year and sells them alongside vintage ones. Some are decades-old jewels Codognato buys back at estate sales, presumably to maintain control of his prices. As for counterfeiters, they don't worry him. "Many people try and make copies [of my work]," he adds. "I let them. I give permission because they can't do it." Re-creating the details is too difficult and costly, he says. One tiny shop, Gioielleria Dogale, in the Venice neighborhood of Castello, sells Codognato-esque pieces for a 10th of the price—but even to my untrained eye, the difference is obvious. 

During my visit to Casa Codognato, no one is in the shop but Codognato and his two assistants, Marella Loredonna and an elegant man named Zeno Zennaro, both of whom have worked here for more than 30 years. Codognato shows me a ring shaped like a coffin that slides open to reveal a skeleton with an oversize erection, and another bearing a Greek maiden's face in profile, which opens to reveal a winged penis. "Why is sex important?" he asks, mischievously. "It's fun but also serious. For some of the pieces there's a story, but I prefer not to say." He picks up a pair of diamond and enamel skull-and-crossbones earrings that cost $170,000. "Look, this is signed by Attilio—but it's my grandfather, not me," he says. "These are absolutely 100 years old." 
Codognato might never have gone into jewelry had his father not died early—"from too much pleasure," he says cryptically. With his father gone, he took charge of the store in his 20s. But he'd grown up going to the Venice Biennale and became fascinated with art. In the 1960s he began spending months in New York, where he became friends with the Italian-American art dealer Leo Castelli. For several years he even ran a tiny pop art gallery, the Galleria del Leone, in Venice.
That's where he became lifelong friends with Christo and his late wife and collaborator, Jeanne-Claude. In 1963 he organized the duo's first art show in Venice, featuring various objects wrapped in cloth and rope. It was shut down for "obscenity" by the cardinal who would later become Pope John Paul I. "Attilio was this very elegant gentleman, with his incredible jewelry—very adventurous," says Christo. After the show, the artists traded one of their works for a Codognato item. "Jeanne-Claude really wanted one of the pieces," Christo recalls. "Even though she never wore jewelry, not even a wedding ring," until later in life, when she began wearing wedding rings on all of her fingers.
Codognato also befriended Andy Warhol, who in his diaries describes a 1977 dinner at Codognato's palazzo on Venice's Grand Canal: "The big hall was set with tables for 100 people," writes Warhol, going on to describe how everyone partied late into the night, even after the building was shook by an earthquake, sending guests—and paintings—tumbling. (Now a member of London's Tate museum's International Council, Codognato still hosts dinners during the Venice Biennale.)

A few days after visiting his shop, I plan to meet Codognato at the same palazzo of that storied dinner party. As I'm waiting nearby at a dock for vaporetti—Venice's water taxis—a stranger approaches. "I'm Attilio's son, Mario," says the bespectacled man, who looks like a Swiss businessman. "Attilio described you perfectly." It turns out Codognato is in the hospital for a checkup. Mario, a curator who's visiting from Milan, says he'll show me around. 
Together we walk through a garden and up to Codognato's airy 16th century piano nobile, which looks more like an art gallery than a home, with high ceilings and red terrazzo floors. A housekeeper brings in a tray with espressos and Danish butter cookies served in a tin, leaving it on a table in the main hall. A Maurizio Cattelan bicycle stands near a De Chirico painting; disassembled cardboard boxes hang on the wall and a long rope lies across the floor, both pieces by Robert Rauschenberg. "More or less everything you see here was bought around the time it was made," says Mario.
A dining room nearby showcases several more artworks, including a Warhol portrait of young Codognato, Tuscan pottery, golden chairs with coiling snakes as backrests, and neon wall hangings by Bruce Nauman. The sitting room, meanwhile, houses a floral Warhol carpet, a Koons sculpture of a snorkel, a wall of Duchamp artworks, piles of classical CDs, novels, and photographs of Codognato's wife, Gabriella, who is an architect, together with Warhol and Castelli.
"My father always loved art. … He even tried to train as an artist," says Mario. Those aspirations were abandoned in high school, but Codognato's fascination with pop and contemporary works perhaps influenced his more humorous, sexual jewelry designs. "It's on the line of being kitsch, not kitsch," says Mario. "A lot of contemporary art is also borderline and can be read in different ways."
But Mario doesn't know for sure. "My father doesn't talk about jewelry much," he says, adding that not even he knows where Codognato's pieces are manufactured. What will happen to the family business once Codognato is gone is unclear. "I have a 16-year-old who might be interested," says Mario. "But he's still too young." 
As for Attilio, I never see him again.
Before it's here, it's on the Bloomberg Terminal.
LEARN MORE