Trump Tweeting Will Spur Reality Check on U.S., HSBC Says
By
Investors must shift now to emerging markets, strategist says

Abe, Modi enjoyed longer honeymoons after their victories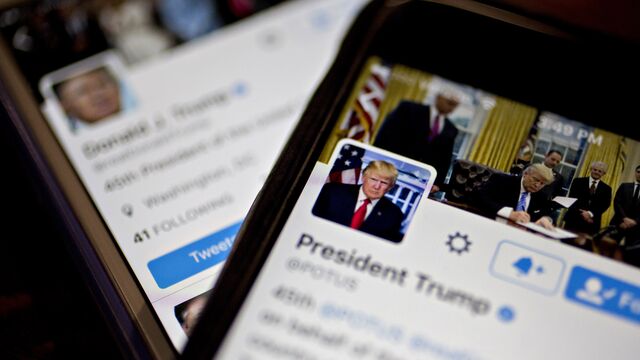 A reality check may be looming for investors optimistic about Donald Trump's policies, and that bodes well for emerging markets in Asia, according to Herald Van Der Linde, HSBC's head of equity strategy for the Asia-Pacific region.
While leaders such as Japan's Prime Minister Shinzo Abe and India's Narendra Modi enjoyed comparatively lengthy periods of market strength after taking office, the U.S. optimism that welcomed Trump's surprise victory in November shows signs of fizzling less than a month into his four-year term.
"The expectations of the markets seem to be higher than what, very often, politicians can promise," Van Der Linde said in an interview at HSBC's Hong Kong office. With regard to Trump, "the reality check might come sooner," he said. That's "maybe because we see part of the internal workings of what happens in the White House on Twitter -- so we see some of the struggles that go on coming on the Twitter feed."
Emerging markets in China, India and Indonesia, meanwhile, could see gains of 10 percent or more from investors seeking alternatives.

With Trump, the "reality check might come sooner as some of the policies -- the travel ban etc. -- is more difficult to implement than the markets anticipated, or the Trump administration anticipated."
The S&P 500 Index has edged up 1 percent since Trump's Jan. 20 inauguration, paling in comparison with the 4.6 percent surge it experienced from the Nov. 8 election through to the end of the year. The index's advance has slowed as Trump stumbled out of the gate with a flurry of executive orders including a travel ban on immigrants from seven countries that has been suspended by a Seattle judge.
By comparison, Japan's Topix Index soared almost 60 percent in five months after Abe won election in December 2012, before posting a 20 percent correction. India's S&P BSE Sensex Index jumped 20 percent to a January 2015 record high after Modi took office in May 2014.
Campaign Pledges
The U.S. dollar has weakened in 2017 too as Treasuries yields retreated with investors questioning how aggressively and successfully Trump can pursue pledges to boost spending and curb regulations -- plans that prompted bets that inflation and growth would accelerate in the world's largest economy. The greenback is down against every major peer this quarter after climbing against all of them between Nov. 8 and the end of 2016.
Investors are now adopting a wait-and-see approach to give Trump a chance to follow through on his post-election hype, but that may also be short-lived, Van Der Linde said. The HSBC strategist is one of a number of investors and analysts to question if the post-election rally was too fast and furious.
Ray Dalio, co-chief investment officer at Bridgewater Associates Inc., who runs the world's largest hedge fund and in November was bullish on Trump's ability to stimulate the economy, now says he's more concerned that the damaging effects of populist policies may overwhelm the benefits of a pro-business agenda. Jacob Mitchell, chief investment officer at Antipodes Partners Ltd. in Sydney, thinks the post-election rally made U.S. stocks way too costly.
"Not many stocks in that area actually demonstrated a margin of safety to begin with, so they were already expensive," Mitchell, whose global equities fund last year gained almost double the MSCI All Country World Net Index in Australian dollar terms, said in an interview in Sydney Tuesday. "Now they're a lot more expensive."
China, India
The reality check looming for U.S. markets could come by mid-year, and will include weakness in the greenback, slowing growth in equities and declining bond yields, Van Der Linde said.
He suggests buying Chinese stocks that are more likely to react to domestic developments -- such as selected retailers and alternative energy producers like solar or wind generators -- as well as large-cap banks in India and consumer and automotive names in Indonesia.
The MSCI Asia Pacific Index, the region's benchmark, has risen 5.8 percent since Jan. 1. The gauge rose 2.3 percent in 2016, ending two years of declines.
"This could be a reset for emerging markets," he said. "We think the reality check period starts in the middle of the year. For emerging market investors we shouldn't wait for that."
Before it's here, it's on the Bloomberg Terminal.
LEARN MORE