Five Things You Need to Know to Start Your Day
Get caught up on what's moving markets.
By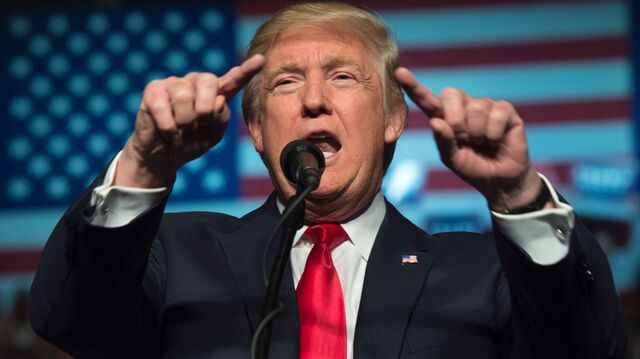 Want to receive this post in your inbox every morning? Sign up here.
Ruling on Trump's travel ban coming later this week, India's central bank delivers a surprise, and oil falls as U.S. production heads to a 48-year high. Here are some of the things people in markets are talking about today.
Awaiting ruling
A decision on whether the freeze on President Donald Trump's travel ban can remain in place is expected later this week from the three-judge panel of the U.S. Court of Appeals for the Ninth Circuit in San Francisco. Meanwhile, in Washington, Betsy DeVos had to rely on Vice President Mike Pence's tie-breaking vote to become U.S education secretary, and Democrat Elizabeth Warren finds herself barred from the rest of the debate over Alabama Senator Jeff Sessions, Trump's attorney general nominee. 
RBI surprise
India's central bank surprised markets by leaving borrowing costs unchanged and signalling a shift from an accommodative to a neutral stance. The yield on benchmark 10-year sovereign bonds jumped 25 basis points in the aftermath of the announcement. The decision will come as a blow to Prime Minister Narendra Modi who is facing regional elections in the coming months amid the fallout from his cash ban.
Oil falls
A barrel of West Texas Intermediate for March delivery was trading at $51.60 by 5:29 a.m. ET, close to a two-week low, after industry data showed a surge in U.S. stockpiles. The Energy Information Administration said that the U.S. will pump the most crude next year since 1970, as OPEC cuts lift prices and benefit domestic producers. In other oil news, Saudi Aramco has picked New York-based boutique investment bank Moelis & Co. to advise on its initial public offering, and investor positioning is looking stretched.
Markets rise
Overnight, the MSCI Asia Pacific Index added 0.3 percent while Japan's Topix index closed 0.5 percent higher as the markets tracked the yen. In Europe, the Stoxx 600 Index had gained 0.5 percent by 5:40 a.m. ET as the resource sector was buoyed by Rio Tinto Group's better-than-expected results. S&P 500 futures were unchanged. 
Metal rally
Copper is rallying and according to Goldman Sachs Group Inc. due to extend its gains thanks to potential supply disruptions at the world's two biggest mines plus sustained demand from China. Gold hit its highest level since the days after Trump's election, and miners are taking advantage of the price rise to start a new round of deal making as the industry looks sets for growth.
What we've been reading 
This is what's caught our eye over the last 24 hours.