China Should Allow Three or More Children: Top Demographer
Bloomberg News
Big cities lack management skill to handle growing populations

Removal of administrative barriers to boost manufacturing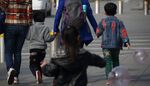 China needs to reduce the cost of raising children to bolster its low birth rate and slow the decline in the nation's workforce, said Cai Fang, one of the nation's top demographers.
Policy makers should use public services including kindergartens, schools and child care to lower costs and encourage cash-squeezed parents to have more children, said Cai, vice president of the Chinese Academy of Social Sciences in Beijing and a member of the Standing Committee of the National People's Congress.
"Now the policy allows you to have a second child, but many people, at least 50 percent of them, do not want the second child," said Cai, a former head of the Institute of Population and Labor Economics at CASS. "Population policy, which encouraged people to give birth more, should be a policy package including allowing people to have a second and third or even more babies. If the total fertility rate can increase, the newborn will be the labor force in 20 years."
More supportive policies should be rolled out at least after the current five-year plan to 2020, said Cai. For now, he said, the total fertility rate is unlikely to reach 1.6, a level well below the 2.1 rate deemed necessary to prevent long-term population decline. China eased its three-decade-old one-child policy in 2013, allowing couples to have two children if either parent is an only child, and increased the limit to two children a year ago.
Cai, who says surrealist painter Salvador Dali is his favorite artist, is well known for being among the first economists to spot the onset of the so-called Lewis Turning Point in China, when surplus labor evaporates, pushing up wages, inflation and consumption and denting competitiveness -- exactly as happened in China subsequently.
Here are excerpts of a recent conversation:
Q: If China relaxes policy to allow three or more children, what will the impact be?
A: I don't hold a big hope for that. The decline of the fertility rate is the result of social development, not because of the policy. We don't expect many more children will be born.

Q: What's the total fertility rate now?
A: I don't think there is a big increase. From the calculation based on the population census you always get very low, 1.1, like that. You should do some adjustment on the data, and previously I believe it was 1.4. We expected it to increase to 1.6, but I don't think we can really reach 1.6.
Q: What's at stake for the economy in terms of whether births can be increased?
A: You can slow down the decline of the labor supply. In the medium and longer run you can improve education levels by spending on higher education. My policy suggestion is to expand compulsory education to preschool for three years and for senior high school for three years. That would significantly increase the years of schooling, which is a very important variable in the production function. In 20 years maybe it's the quality of human capital rather than the quantity that will be more important.
Q: What's the outlook for China's manufacturing sector over the next three to five years given a shrinking workforce and rising wages?
A: I'm quite optimistic because we have the advantage of backwardness in both technology and also in institutions. These two gaps are quite large. By catching up, we can employ new technology to equip our manufacturing sector for a faster pace. Institutional barriers also are increasing the costs for enterprises. There are lots of unnecessary regulations which lift up the cost for enterprises. Small- and medium-size enterprises still lack access to financing. Industrial policies give subsidies or other supports to firms, but for SMEs it's very complicated and costly to get that. By removing all these institutional obstacles, China's climate for enterprises will be improved.

Q: Some economists say that by capping population in the biggest cities, China misses out on big gains from economies of scale. Does it make economic sense to lock down those cities?
A: The largest cities in China have the most dynamic innovation and economic development. But you can't make them even bigger. Instead of entering Beijing, Shanghai or Guangzhou, it's better for the government to allow small, dynamic towns to become medium-size or even large-size cities.
Q: Greater Tokyo is a well-run metropolis with a much larger population than Beijing or Shanghai.
A: The management ability is historically formed, and at the current level they cannot handle those people. It's too big to be managed under the current ability of the municipal government. You cannot expect the management ability can be improved overnight. In the future, migrant workers should be allowed to settle in all levels of cities.
— With assistance by Kevin Hamlin
Before it's here, it's on the Bloomberg Terminal.
LEARN MORE