Russia Warns Against East Ukraine Escalation After Rebel Killing
by
Donetsk rebel commander 'Givi' killed in eastern Ukraine

Ukraine and rebels trade blame over killing of rebel leader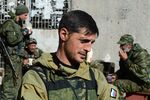 Russia warned against a further escalation of the situation in war-torn eastern Ukraine as the government in Kiev and separatists traded blame for the killing of a rebel commander.
Mikhail Tolstykh, a Donetsk rebel commander known as "Givi," was killed on Wednesday morning at his headquarters with a portable flamethrower, separatist-controlled news website DAN reported. Tolstykh has made many enemies among his own ranks with his ruthlessness, Ukrainian army spokesman Oleksandr Motuzyanyk said via video link from Kiev.
Late last month, Ukraine reported the worst shelling in a year in its conflict with pro-Russian insurgents that erupted almost three years ago and has killed nearly 10,000 people. The surge in violence coincides with Donald Trump taking office as U.S. president, after he suggested he may relax sanctions against Russia for annexing Crimea and backing the rebels. Ukraine said separatists were shelling government troops on Wednesday.
Tolstykh's killing is an attempt to destabilize the situation in eastern Ukraine, Kremlin spokesman Dmitry Peskov told reporters on a conference call, adding he hopes it won't escalate the already tense situation. He rejected allegations of Russian involvement in attacks on rebel commanders.
The death of 36-year-old Tolstykh, who fought for the separatists since May 2014, adds to a string of attacks against their best-known leaders. His close ally, Russian-born Arsen Pavlov known as "Motorola," was killed in an elevator explosion in October. Alexander Zakharchenko and Igor Plotnitskiy, rebel leaders of the self-declared Donetsk and Luhansk republics, claim to have survived assassination attempts last year.
Before it's here, it's on the Bloomberg Terminal.
LEARN MORE