Rio Tinto Gets Its 'Swagger' Back as Iron Rally Delivers Payday
By and
Iron ore surged 81% last year as China stimulus spurred demand

Dividend beats analysts expectations; $500 million buyback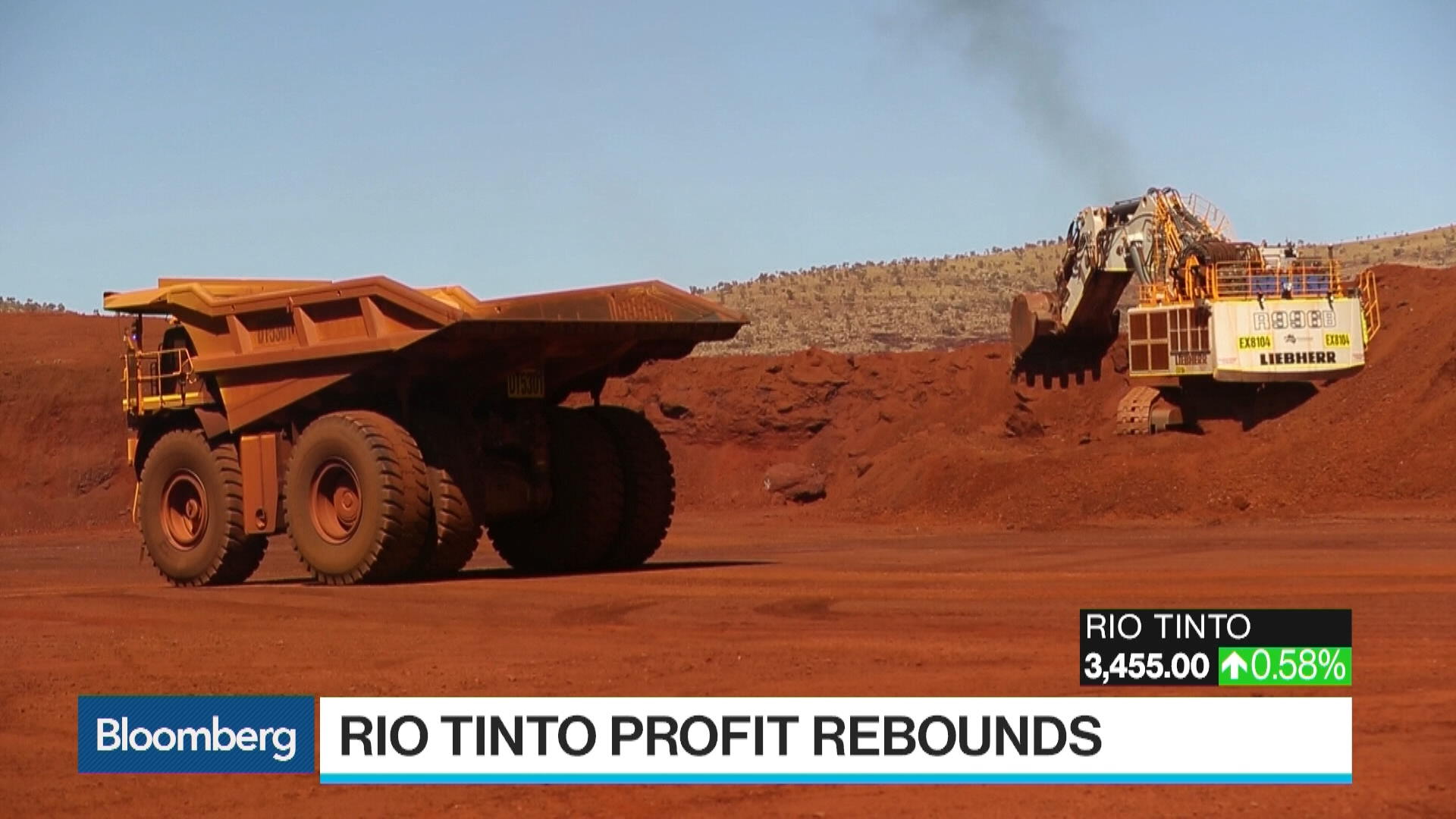 Rio Tinto Group is delivering on a promise to reward investors as it emerges from an industry-wide downturn by paying out a bigger-than-expected dividend and announcing a surprise $500 million share buyback.
Last year's 81 percent surge in iron ore prices helped the world's second-biggest mining company report its first gain in annual profit since 2013, exceeding analysts' expectations. The company is focusing on generating cash for investors, helped by recent asset sales, Chief Financial Officer Chris Lynch said in an interview from London. The shares climbed.
"What a difference a year makes," Peter O'Connor, an analyst at Shaw & Partners Ltd. in Sydney, said in a note. "It's been a long grind back from the global financial abyss that Rio slumped into. But it certainly looks and feels like the 'old school' Rio swagger is back."

The global mining industry is rebounding from a downturn that forced some of the top producers to sell assets, cut costs and rein in spending after years of over-investment bloated balance sheets and left markets oversupplied. Iron ore, Rio's main profit driver, jumped last year as Chinese stimulus supported local steel output, leading to better demand for overseas ore.
"The buyback is a statement of intent," Lynch said. "We've said we would return cash to shareholders. We've done that to the top of the dividend range and we had some spare capacity. I'm quite comfortable about that."
Profit Rises
Underlying full-year profit rose 12 percent to $5.1 billion in 2016, London-based Rio said in a statement Wednesday. That beat the $4.75 billion average estimate of analysts compiled by Bloomberg. While the full-year dividend fell 21 percent to 170 cents a share, it was at the top of Rio's payout range of 40 to 60 percent of earnings under a new policy introduced last year. That also exceeded the average estimate of 136 cents in the Bloomberg survey.
"Under almost any situation, they're going to generate a significant amount of cash again this year and so there's going to be increased pressure on them to do something with that cashflow," Richard Knights, a mining analyst at Liberum Capital Ltd. in London, said by phone. "They've got the best balance sheet in the sector."
Rio's net debt fell 30 percent to $9.6 billion at the end of last year. Lynch said Wednesday the company is aiming to further cut borrowings this year.

"Rio is in good shape today," Chief Executive Officer Jean Sebastien Jacques said on a call with reporters. "We have kept our promises. We have delivered cost savings. We have strengthened the quality of our portfolio. We are investing for the long term and at the same time we have strengthened our balance sheet."
The company is in a "strong position to deliver superior shareholder returns," he added.
Rio said it will purchase $500 million of U.K.-listed shares throughout this year. The stock rebounded from a seven-year low to rally 60 percent in London in 2016. It rose 1.9 percent to 3,501.50 pence by 9:11 a.m. in London, taking this year's gain to 11 percent. The shares reached an almost four-year high in late January.
Prices for iron ore delivered to China are near a two-year high. The main question for Rio and competitors including BHP Billiton Ltd. and Vale SA is whether the rally can be sustained.
"The government has implemented stimulus packages for some time now and we believe they will continue, especially in the context of the leadership conference scheduled for the fourth quarter in Beijing," Jacques told reporters. "The property and construction market is doing pretty well. As far as China is concerned, we do not have a big issue today."
Banks including JPMorgan Chase & Co., Goldman Sachs Group Inc. and Citigroup Inc. are seeking to gauge how easily new low-cost supply will be absorbed and if higher prices will prompt additional output.
There are signs that Chinese customers are well stocked. Inventories at Chinese ports reached a record last week and shipments from Australia's Port Hedland hit an all-time high for the month of January.

Shortly before taking over the CEO role from Sam Walsh in July, Jacques outlined his vision to grow the company through investing in existing projects and expanding profitable operations, rather than focusing on deals. Speaking on Wednesday he said his approach to M&A was unchanged, adding that the projects they are interested in buying are not for sale.
Jacques is leading the 144-year-old mining giant's retreat from coal as part of a broader plan to slim Rio's asset base that has resulted in $7.7 billion of disposals since 2013.
Last month, he agreed to sell most of the company's thermal coal assets to a firm controlled by China's Yanzhou Coal Mining Co. for $2.45 billion. The sale, which would leave Rio with just two remaining coal mines once completed, had raised expectations of bigger returns to shareholders in the future.
The coal disposal could help reduce borrowings to $3.9 billion by the end of 2017, Deutsche Bank AG has said.
— With assistance by Perry Williams
Before it's here, it's on the Bloomberg Terminal.
LEARN MORE