Retirement Advisers' Duty to Clients May Be Shortlived
By
Judge allows Obama-era fiduciary standard opposed by industry

Trump administration told court it was reviewing the rule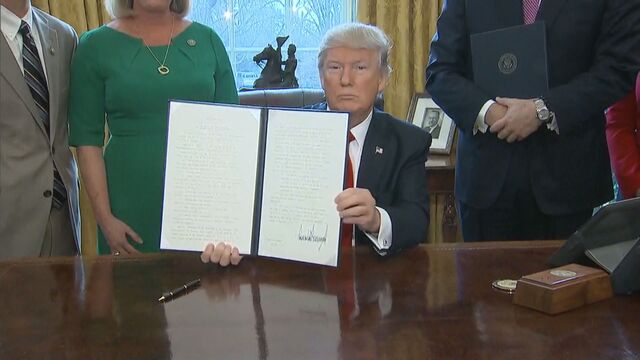 Requiring retirement account managers to put their clients' interest ahead of their own profit was ruled legal by a federal judge as the Trump administration ponders revoking the Obama-era rule.
Thwarting an industry-backed effort to block the requirement set to take effect April 10, U.S. District Judge Barbara M.G. Lynn in Dallas concluded that all financial advisers handling retirement accounts have a fiduciary duty to their clients, obligating them to provide professional advice. The rule, part of President Barack Obama's middle-class economic agenda, has faced vigorous criticism from industry representatives as well as Republicans in Congress.
The rule, like an array of Obama's policies, may be undone soon by the Trump administration, which had asked Lynn earlier Wednesday to put the case on hold for a month while it assessed its legal options. President Donald Trump signed an executive order Friday mandating a review of the rule, saying it "may not be consistent with the policies of my administration."
With sentiment in Congress running against the rule, lawmakers might stop or modify it, said Michael Green, a labor law professor at Texas A&M University.
"The ruling speaks for itself and we have no comment," Justice Department spokeswoman Nicole A. Navas said in an e-mail. Wednesday's decision followed an earlier ruling by a judge in Washington who reached a similar conclusion.
The U.S. Chamber of Commerce and other business groups sued the federal government in a case that was consolidated with those brought by the American Council of Life Insurers and the Indexed Annuity Leadership Council.
'Sweeping and Harmful'
The chamber's lawyers argued that the Labor Department exceeded its authority by prohibiting widely accepted methods of compensation, erasing the distinction between salespeople and fiduciary advisers and imposing billions of dollars in costs on the financial services and insurance industries.
Lynn rejected that argument.
"Plaintiffs contend that because everyday business interactions are not relationships of trust and confidence, a person acting as a broker or an insurance agent engaged in sales activity is not a fiduciary," the judge wrote. She cited federal law that a fiduciary is anyone who "renders investment advice for a fee or other compensation, direct or indirect."
The chamber said in a statement that it will pursue all of its available options to see that the rule is rescinded.
"This is a misguided rule that will harm retirement savers and financial services firms that provide needed assistance and options to their clients, including modest savers and small business employees," the group said. "The president's recent directive to the department, reflecting well-founded, ongoing and significant concerns about the rule, is a welcome development."
Retirement Losses
The government argued in the case that conflicts of interest in the retirement savings market are widespread and that underperformance associated with such conflicts in the mutual funds segment alone could cost the holders of individual retirement accounts from $95 billion to $189 billion over the next 10 years.
On Nov. 23, a federal judge in Washington rejected a request to put the fiduciary requirement on hold while the National Association for Fixed Annuities appeals his decision upholding the rule.
Wednesday's court decision "ought to put a stake through the heart of industry's efforts to destroy this common-sense rule, " said Stephen W. Hall, legal director for the advocacy group Better Markets.
"What Americans saving for retirement need is advice in their best interests, not sales pitches and spin aimed at saddling them with expensive and mediocre investments that line their brokers' pockets with commissions and fees but eat away at retirement savings," he said.
The cases are Chamber of Commerce of the United States of America v. Perez, 3:16-cv-01476; American Council of Life Insurers v. U.S. Department of Labor, 3:16-cv-1530; Indexed Annuity Leadership Council v. Perez, 3:16-cv-1537; U.S. District Court, Northern District of Texas (Dallas).
— With assistance by Andrew M Harris
Before it's here, it's on the Bloomberg Terminal.
LEARN MORE