Biggest Mideast Bank Eyes Southeast Asia After Beating Expansion Goal
by , , and
QNB plans to grow existing operations as part of growth plan

Bank sees 'promising future' for Egyptian, Turkish economies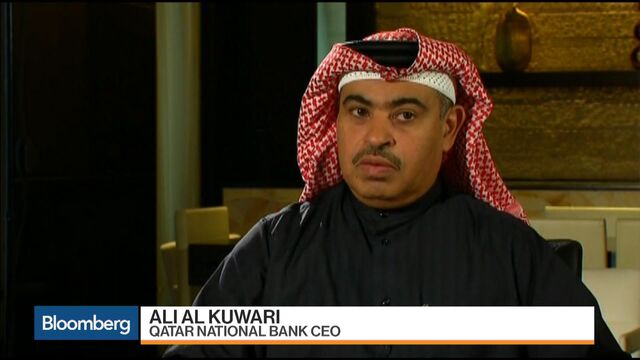 Qatar National Bank SAQ, the biggest bank in the Middle East and Africa, is turning its focus to Southeast Asia for growth after hitting expansion goals in the region earlier than planned.
"Our previous target to become a Middle East and Africa icon by 2017, was achieved in 2014, so we have upscaled our aspiration to become a Middle East, Southeast Asia and Africa bank," Chief Executive Officer Ali Al Kuwari said in an interview with Bloomberg TV at his office in Doha on Tuesday. "The business environment in Southeast Asia is great for us."
QNB, as the bank is known, is turning its Singapore operation into an Asian hub, adding staff there and introducing Islamic finance products, along with boosting its presence in India, Indonesia, Vietnam and Myanmar, and opening its first branch in Saudi Arabia this year. While the bank isn't actively pursuing a large acquisition at the moment, it will make use of opportunities as long as they fit the lender's strategy, Al Kuwari said.
QNB has almost doubled its assets to $198 billion over the past five years by increasing lending in its home market, and through spending about $6 billion on acquisitions in countries including Egypt and Turkey, according to data compiled by Bloomberg. It bought Societe Generale SA's Egypt unit in 2013 for $2.45 billion, about 20 percent of Togo-based pan-African lender Ecobank Transnational Inc. in 2014 and spent $3 billion on the purchase of Turkey's Finansbank AS last year. That helped the country expand to cover 30 countries across the region.

Al Kuwari, who has led the bank since July 2013, is presiding over an era of oil prices that have almost halved since mid-2014, and strains in two of its main markets, Egypt and Turkey.
"Looking at Egypt and Turkey, the banking systems have been resilient to any problems and issues," Al Kuwari said. "There is a promising future for the banking systems in both countries. We have a long-term commitment."
Lower Returns
In Qatar, an increase in oil prices of more than 20 percent over the past six months will add liquidity to the country's financial system, the CEO said. There also haven't been any signs of a slowdown in major projects, and companies and contractors are meeting their obligations, he said.
Click here for Qatar's finance minister's view on oil and the economy.
As QNB expands into more mature markets the bank's return on equity, a key measure of bank profitability, will come under pressure, Al Kuwari said. Return on equity was over 20 percent last year, beating global peers including JPMorgan Chase & Co., Citigroup Inc., and HSBC Holdings Plc. Profit rose 10 percent last year to 12.4 billion riyals, meeting analyst estimates, even as oil prices slumped and economic growth in Qatar fell to its slowest since 1995, the bank reported last month
"What we promised our shareholders is 15 percent return on equity -- still this is excellent and a dream for many banks to achieve," Al Kuwari said. "But for us, we will do our best to maintain 20 percent. As we diversify to mature markets, this number becomes a challenge."
Before it's here, it's on the Bloomberg Terminal.
LEARN MORE