Nordstrom Shares Surge After Trump's Critical Tweet
By
President's twitter attacks have waylaid other companies

Retailer emphasized good relationship with Ivanka Trump brand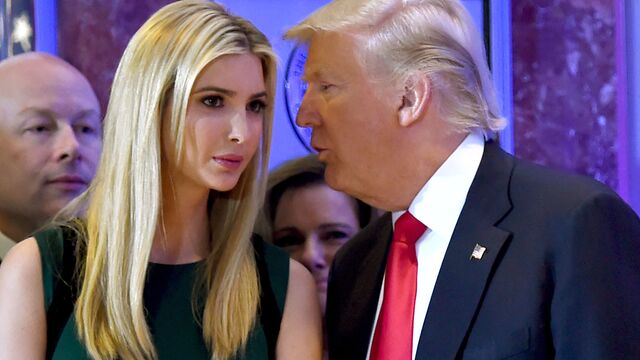 Nordstrom Inc., which was lambasted by President Donald Trump on Twitter Wednesday, didn't pay a price with investors.
Shares of the department-store chain gained as much as 8.4 percent in the two days since the president tweeted about the company, marking the biggest advance since November. He slammed Nordstrom for dropping daughter Ivanka's brand, using his favorite social-media forum for calling out businesses.

Though Trump's tweets have hammered stocks in the past -- a volley launched at Lockheed Martin Corp. last year temporarily erased almost $2 billion in market value -- Nordstrom proved more resilient. The company also tried to lower the tension by saying it had a "great relationship" with Ivanka Trump's team, and that the decision not to reorder merchandise only came after sales decreased.
"We've had open conversations with them over the past year to share what we've seen, and Ivanka was personally informed of our decision in early January," Nordstrom said in an e-mailed statement. After sales of the brand "steadily declined," especially in the second half of last year, continuing to offer the collection no longer made sense.
In his tweet, the president said Ivanka Trump had been treated "so unfairly" by Nordstrom. "She is a great person -- always pushing me to do the right thing! Terrible!" After initially posting the message on his personal account, he later retweeted it from the official presidential handle, @POTUS.
Ivanka Trump had nothing to do with the president's decision to tweet about Nordstrom, according to a person close to the first daughter who asked not to be identified.
Despite the loss of Nordstrom, Ivanka Trump's brand still expects to grow swiftly this year. It plans to make its products available in 1,000 stores this year, up from 800. The business, which is no longer run on a day-to-day basis by the first daughter, has pushed into seven additional product categories since 2014. It began with footwear in 2011.
Shares of Nordstrom dipped after Wednesday's tweet was posted, though they quickly recovered. The stock steadily climbed for the rest of the trading session and continued to rise on Thursday, reaching the highest point since Jan. 4.