The Most Stubborn Trump Trade Begins to Budge
By
Benchmark 10-year note stages longest advance since June

Dollar rally, Fed rate-hike bets already lost steam this year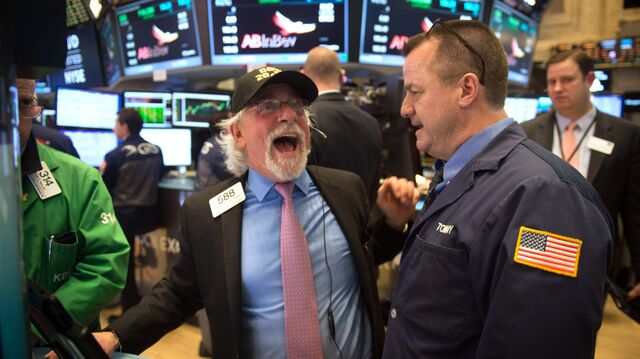 Investors betting that the Trump-inspired reflation trade would sound the death knell for the three-decade bond bull market may have to wait at least a little longer.
The wager against Treasuries, among the most resilient trades in the wake of Donald Trump's election, is showing signs of crumbling. The benchmark 10-year note gained for a fourth straight day, the longest streak since June, amid fading hopes that the administration would hammer out comprehensive fiscal stimulus any time soon.
Meanwhile, bond investors' appetite for protection against inflation is also waning: The 10-year break-even rate, a market measure of inflation expectations, has retreated to levels last seen in December. To top it off, markets see a dwindling chance of a Federal Reserve hike before the second half of 2017.
Traders have company in pulling back from bearish bond bets. A survey from JPMorgan Chase & Co. for the week ended Feb. 6 showed net short positions fell among all clients, while data from the Commodity Futures Trading Commission indicate further paring of shorts on five-year contracts among non-commercial accounts. 
Some of the biggest names on Wall Street are also expressing skepticism that economic growth will warrant higher rates right away. 

Minneapolis Fed President Neel Kashkari said in an essay Tuesday that inflation is in check and the U.S. job market seems to have more room to improve. Laurence D. Fink, BlackRock Inc.'s chief executive officer, sees a greater probability that the 10-year Treasury yield falls back to 2 percent, a level not breached since Nov. 10.
Still, the median forecast among analysts surveyed by Bloomberg calls for the 10-year yield to end 2017 at 2.75 percent, from about 2.35 percent Wednesday. That would eclipse the 2.6 percent level that Janus Capital's Bill Gross said would mark the start of a bear market.
As of now, the bond bear is in retreat, suggesting the fixed-income world may catch up to other assets that have already soured on the notion of reflation.
The dollar fell in January by the most in 10 months, erasing much of its post-election rally, while the odds of a Fed hike by June have dwindled to 64 percent, from 73 percent on Inauguration Day.
Before it's here, it's on the Bloomberg Terminal.
LEARN MORE