Merkel Sets Up Trump Spat at G-20 Amid Push for Latam Trade Deal
By
German chancellor puts trade on G-20 agenda for this year

Showdown may come at July summit in Hamburg Trump will attend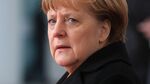 Chancellor Angela Merkel said she was putting international trade on the agenda of Germany's presidency of the Group of 20 this year, as she doubled down on her rejection of the protectionist stance taken by U.S. President Donald Trump.
The chancellor, speaking in Berlin on Wednesday after a meeting with Uruguay's President Tabare Vazquez, said that World Trade Organization representatives will be invited to the G-20 leaders' summit in Hamburg in July, a meeting that Trump has said he will attend.
"Then we'll be able to see more clearly where the new U.S. administration's priorities lie," Merkel told reporters alongside Vazquez.
As leader of the world's No. 3 exporting nation, Merkel is increasingly championing free trade and hardening her stance against protectionism. She and Chinese Premier Li Keqiang spoke in favor of closer trade ties in a call last month that signaled global alliances developing to counteract nationalist tendencies.
Merkel and Vazquez pledged to push for a European Union free-trade deal with South American nations, saying that the time was right to breathe new life into the stalled talks with Mercosur, the regional trade bloc.
That sentiment was encouraged by EU President Donald Tusk in a Jan. 31 letter to the bloc's leaders in which he said that the EU should take advantage of the new U.S. protectionism and intensify trade talks with trade partners around the world.
Brazil-Argentina
Speaking in Berlin, Vazquez was openly critical of the U.S., saying that he was "very concerned" by some of the positions taken by the new president. He said he hoped that "finally" a free-trade deal between the EU and Mercosur can be signed.
The prospect of a trade deal follows Trump's withdrawal from the Trans-Pacific-Partnership, a pact that includes three Latin American countries. Brazil's President Michel Temer and Argentine counterpart Mauricio Macri, the leaders of South America's two largest economies, pledged at a meeting in Brasilia on Tuesday to reduce trade barriers and seek the expansion of Mercosur trade agreements with countries including Mexico and with the EU.
All the same, Mercosur -- comprising Brazil, Argentina, Uruguay and Paraguay -- has been riven by internal disputes over trade policy since its founding in 1991, and it has made little headway in striking deals outside the region. Talks between the EU and Mercosur started in 1999 but have stumbled since.
Merkel said that Uruguay's backing and political changes in Argentina give new hope to a deal. As well as Uruguay's role as an advocate of free trade, "so the change of president in Argentina offers a greater chance for Uruguay to push on behalf of Mercosur," she said.
In her weekly podcast on Saturday, she said that a deal could include agriculture, a previous sticking point, and energy.
'Great Prosperity'
In his presidential inauguration address, Trump espoused an "America First" doctrine that included a pledge to "protect our borders from the ravages of other countries making our products, stealing our companies, and destroying our jobs."
"Protection will lead to great prosperity and strength," Trump said.
Merkel, who is running for a fourth term in Germany's election in September, has spoken about her concern over the threat of protectionism, while Chinese President Xi Jinping has likened it to "locking oneself in a dark room."