Reflation Trades Show Signs of Life on Trump Taxes: Markets Wrap
By
Banks lead rally as president signals tax details coming

Treasuries halt four-day rally, greenback erases losses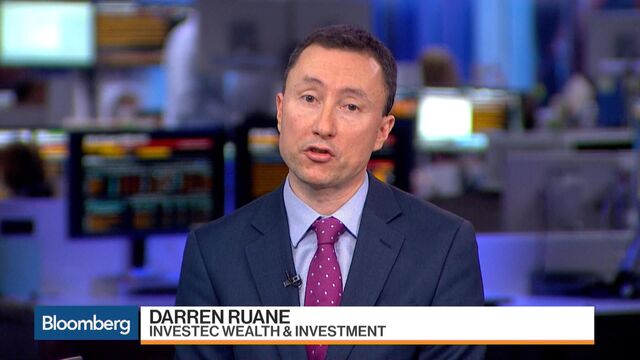 All it took was a vague promise for a "phenomenal" tax plan.
U.S. stocks rose to records, the dollar jumped and Treasuries fell after President Donald Trump said long-awaited details on promised tax cuts would emerge within weeks, revitalizing trades that had begun to show signs of cracking.
The S&P 500 Index surged to an all-time high, with airlines jumping after Trump promised industry executives he'd roll back regulations and announce a "phenomenal" tax plan. Equities in Europe rallied after solid results from Societe Generale SA eased concerns about the region's banks. Treasuries fell, while French and Italian bonds gained amid ebbing political risk. Gold backed off its highest level since November.
Trump's comments served as a lifeline to so-called reflation trades that were weakening as the administration expended energy defending immigration orders and threatening to rewrite trade terms while providing scant details on pro-growth policies promised during the campaign. Equities surging to fresh highs on little more than the promise for details later this month demonstrated how starved investors have been for details on spending increases and tax cuts that should spark growth in the world's largest economy.
What's coming up in the markets:
Attention will turn Friday to Shinzo Abe's visit with President Donald Trump, as investors parse reports the Japanese prime minister is prepared to offer infrastructure investment, with the U.S. administration still sitting on details of its own policy proposal.
The International Energy Agency and OPEC monthly reports are due on Friday and Monday, respectively, providing the first full month of production data since the oil cartel's supply deal.
A U.S. court of appeals is reviewing arguments on whether to reinstate the Trump administration's temporary ban on immigration, with the outcome likely to be appealed to the Supreme Court.
Read our Markets Live blog here.
Here are the main market moves:
Stocks
The S&P 500 rose 0.6 percent to a record 2,307.74 at 4 p.m. in New York. The index hadn't moved more than 0.3 percent on a closing basis in the three days this week as it churned near the top of a range its held since mid-December.
Airlines jumped 2.5 percent amid Trump's promise to cut regulations on the industry.
Banks led the rally with a 1.4 percent rise to halt a three-day slide.
The Dow Jones Industrial Average added 115.70 points to 20,170.04. Nike Inc. led gains with a 2.6 percent advance.
The Europe Stoxx 600 climbed for a third day, adding 0.8 percent, to the highest since Jan. 26.
Bonds
Treasuries fell, with 10-year yields rising six basis points to 2.39 percent, halting a rally that took yields to the lowest in three weeks on a closing basis.
Italian bonds gained, with the yield on debt due in a decade shedding seven basis points. German benchmark yields rose two basis points to 0.31 percent.
Greece's two-year bond yield briefly climbed above 10 percent as negotiations to release further IMF funds remained deadlocked.
Currencies
The Bloomberg Dollar Spot Index erased a loss that reached 0.1 percent to trade higher by 0.3 percent. It's on track to halt a six-week losing streak.
The world's largest foreign-exchange trading firm sees the dollar rising this year even as the president talks the greenback down and blasts some of the nation's biggest trading partners for currency manipulation.
The euro weakened 0.3 percent to $1.0663 and the British pound lost 0.3 percent to $1.2502.
Commodities
Oil rose 1.3 percent to settle at $53 per barrel. The global oil market's march to equilibrium won't be deterred by the increasing volume of crude being poured into U.S. storage tanks, according to Goldman Sachs Group Inc.
Copper three-month forwards slipped 0.5 percent to end at $2.6545 a pound in New York, faltering after a 1.7 percent rally Wednesday after workers at the biggest mine in Chile vowed to strike. 
Gold slumped 0.6 percent to $1,232.10 an ounce, after touching the highest level since November.
— With assistance by Dennis Pettit, Eddie Van Der Walt, Susanne Barton, Mark Shenk, and Lananh Nguyen
Before it's here, it's on the Bloomberg Terminal.
LEARN MORE