Ivanka Trump Brand Says It's Still Growing Despite Criticism
By
Nordstrom said last week that it had dropped the collection

President Trump criticized retailer in a tweet on Wednesday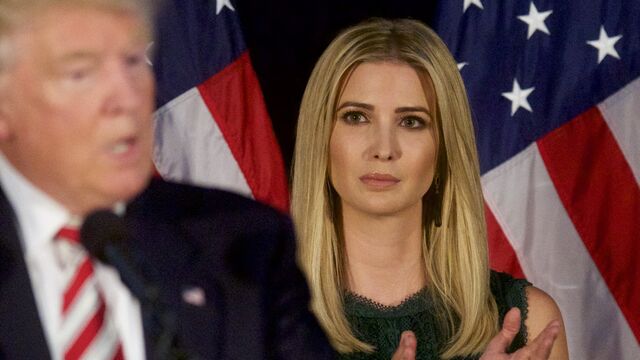 Ivanka Trump's brand is reiterating its growth ambitions after Nordstrom Inc. stopped carrying many of her products, a move that inspired a rebuke from the president.
Sales of Ivanka Trump merchandise jumped 21 percent in 2016, according to a representative for the brand. And the collection will be available in 1,000 stores this year, up from more than 800 -- holding to an expansion plan despite the defection of Nordstrom.
The business, which is no longer run on a day-to-day basis by the first daughter, also has pushed into seven additional product categories since 2014. It began with footwear in 2011. The lineup is still available at Zappos, Lord & Taylor, Bloomingdale's, Macy's, Hudson Bay and Dillard's.
The growth ambitions signal that the company doesn't plan to retreat from controversy and the threat of boycotts. The business has come under fire from the Grab Your Wallet campaign, a critic of the administration that is asking shoppers to shun Ivanka Trump and Donald Trump products.
Nordstrom had been an early supporter of Ivanka Trump, becoming one of the first retailers to offer her shoes after they rolled out in 2011. But recently her products began to disappear from its inventory, raising questions about the relationship. That's when the chain confirmed that it decided not to reorder the brand's merchandise.
"Based on the brand's performance, we've decided not to buy it for this season," the company said last week.
Mixing It In
TJX Cos., the owner of T.J. Maxx and Marshalls, dealt an additional blow when it stopped displaying Ivanka Trump merchandise in separate branded areas -- choosing instead to throw the products in with other items. Even so, it's still carrying Ivanka Trump's wares, the company said on Wednesday.
"The communication we sent instructed stores to mix this line of merchandise into our racks, not to remove it from the sales floor," TJX said. The move was reported earlier by the New York Times.
Rosemary Young, senior director of marketing for Ivanka Trump, defended the brand in the wake of the split with Nordstrom.
"The Ivanka Trump brand continues to expand across categories and distribution with increased customer support, leading us to experience significant year-over-year revenue growth in 2016," she said in an e-mail. "We believe that the strength of a brand is measured not only by the profits it generates, but the integrity it maintains."
Twitter Attack
Donald Trump slammed Nordstrom on Twitter Wednesday, raising concerns that he was using presidential power to aid his family's interests.
"My daughter Ivanka has been treated so unfairly," he tweeted on his personal account. "She is a great person -- always pushing me to do the right thing! Terrible!" He later retweeted the message from the official presidential account, @POTUS.
Ivanka Trump had nothing to do with the president's decision to tweet about Nordstrom, according to a person close to the first daughter who asked not to be identified.
She announced last month that she was handing management of her brand to top lieutenant Abigail Klem. Ivanka Trump said at the time that planned to take a leave of absence and help her three young children adapt to a new home and schools in Washington. Her husband, Jared Kushner, is now working as a senior White House adviser.
Ivanka Trump and her brand have drawn flak for mixing business with politics. After she wore a gold bracelet during an interview on CBS Corp.'s "60 Minutes," the business used the event to promote the jewelry, which was part of her collection. Her company previously raised questions last summer when it tweeted a link to a dress sold at Macy's, urging followers to "Shop Ivanka's look" from her speech at the Republican National Convention.
Before it's here, it's on the Bloomberg Terminal.
LEARN MORE