India's Policy U-Turn May Risk a Growth Blowback for Cash-Poor Economy
By and
RBI cites high underlying inflation, firmer commodities

Central bank sees growth recovering as cash ban impact ebbs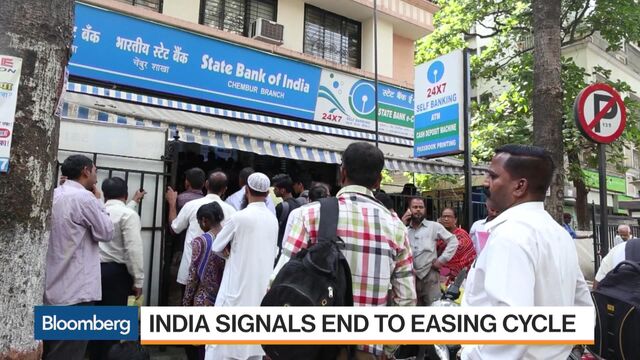 India's central bank is making a habit of surprising markets. It may be in for a nasty surprise of its own if the economy hobbled by an unprecedented cash crunch fails to snap back.
The Reserve Bank of India has gone against consensus at every meeting since Governor Urjit Patel took over in September. Policy makers on Wednesday kept interest rates unchanged and raised the bar on future easing by abandoning an accommodative policy stance that's been in place since June 2015. They cited stubbornly high underlying inflation and rising global commodity prices.
Patel is withholding monetary support at a time when India's economy is vulnerable to a paucity of cash that's dented consumption and forced economists to slash growth forecasts in what's been the world's fastest-growing major economy. The central bank on Wednesday predicted a sharp economic recovery, echoing assurances of a transient slowdown made last week by Finance Minister Arun Jaitley as he pledged to rein in Asia's widest budget deficit.
"At a time when everybody is concerned about the hit to growth due to the cash crunch, we are seeing that the RBI is fixated with inflation," said Priyanka Kishore, the Asia economist for Oxford Economics in Singapore. "An accommodative stance would have likely served the economy better while the monetary policy committee assessed the impact of demonetization."
Facebook Live: What India's rate decision means for economy
India's sovereign bonds slumped Wednesday, driving the 10-year bond yield 31 basis points higher in its biggest surge since 2013. It rose another five basis points to 6.79 percent on Thursday. The two-day advance for the rupee is the biggest among Asian currencies as some investors were drawn to the higher yields.

Patel joins policy makers from Australia to Thailand and Russia in holding benchmark rates as more tightening from the U.S. Federal Reserve limits space for global peers to ease. The central bank in neighboring China has been tightening monetary policy to curb leverage in the financial system, rein in price gains and support the exchange rate.
Governor Patel's five months on the job have been tumultuous. A month after taking the reins from Raghuram Rajan, he decided to cut interest rates to a six-year low of 6.25 percent in October at the first meeting of a newly-constituted monetary policy committee. Just 16 of 39 economists surveyed correctly predicted that change.
In December, an even smaller minority of eight out of 44 economists forecast the RBI's move to hold rates in the aftermath of Prime Minister Narendra Modi's Nov. 8th decision to suck out 86 percent of currency in circulation. Wednesday's decision was picked by just five economists.
Perhaps the bigger surprise was the central bank's change to a neutral stance, which most economists see as the end of this rate-easing cycle in India.
"This came as a shock to most in the market," said Anubhuti Sahay, the head of South Asia economic research at Standard Chartered Plc. "While the decision to stay on hold might not have surprised the market that much, the shift to neutral from accommodative was a big surprise."
The decision comes on the heels of India's Federal budget last week, where the government pledged to narrow the budget deficit in the year starting April 1 by more than economists predicted. Growth in gross domestic product may slow to 6.5 percent in the year through March from 7.9 percent the previous year, according to an Economic Survey presented by the finance minister's advisers.
Bloomberg Intelligence's Abhishek Gupta expects the RBI to cut interest rates in August amid slowing inflation. BI Economics forecasts CPI will print below 3 percent in June, substantially below the RBI's expectations of around 4 percent to 4.5 percent, he wrote in a report.
To read more on India's fiscal spending plans, click here
For investors, navigating India's policy shifts has been challenging. Modi's demonetization announcement was shrouded in secrecy and the central bank's numerous U-turns on rules for cash withdrawals and lack of communication in the following weeks bolstered a view that the RBI's independence was being undermined.
The lack of transparency risks hitting foreign investments that are crucial to plugging India's current account deficit. Foreign holdings of rupee-denominated government and corporate notes have fallen for four straight months through January, when offshore investors were also net sellers of equities.
"You've basically got a group of decision makers on Indian policy rates who don't have a track record of making these decisions," said Rajiv Biswas, Asia-Pacific chief economist at IHS Global Insight, Singapore. "That's definitely relevant in terms of their communication to the market. It's definitely been non-transparent."