Gorsuch High Court Fight Puts Heat on Trump-State Democrats
By
Indiana's Donnelly, Missouri's McCaskill under pressure

'Pick a side,' conservative group urges 10 Senate Democrats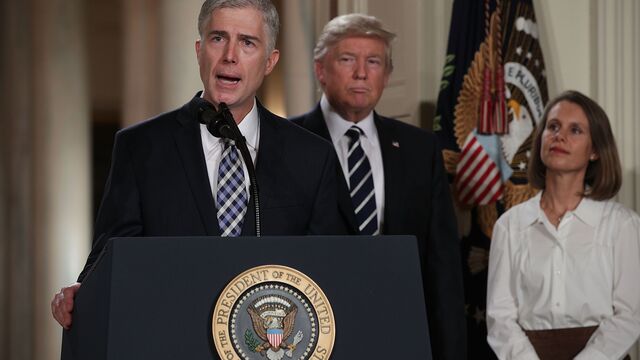 The battle over Neil Gorsuch's nomination to the Supreme Court will likely hinge on the votes of 10 Democratic senators who face re-election next year in states President Donald Trump won in November.
That is setting off a furious battle between liberal and conservative groups for the votes of senators, including Heidi Heitkamp of North Dakota and Joe Donnelly of Indiana. Liberals plan an all-out campaign to argue that working-class voters will lose with Gorsuch on the court, while the conservative Judicial Action Network is running a $10 million ad campaign geared toward persuading those Democrats to back him, or at least allow a final Senate vote.
"They're going to have to pick a side," said Carrie Severino, the Judicial Action Network's chief counsel and policy director. "If they don't appeal to their states as a whole, they're not going to be able to win re-election."
Senate Democratic leaders face intense pressure from their energized party base to oppose Trump's nominees, particularly for the high court. They also want to protect the 10 members in Republican-leaning states, even though they have little chance of taking Senate control in 2018. Republicans hold a slim 52-48 majority but have only two incumbents -- Jeff Flake of Arizona and Dean Heller of Nevada -- in competitive races next year.
Strategy Shift
Senate rules require 60 votes to advance a Supreme Court nomination. While Trump publicly urged Majority Leader Mitch McConnell to "go nuclear" and end filibusters if Democrats try to block Gorsuch, the administration's strategy has shifted to seeking the 60 votes needed to end a filibuster, said Leonard Leo, executive vice president of the conservative Federalist Society. He's on leave to advise the White House on the confirmation.
"There are senators who have generally been open to hearing what Republicans have to say and offer," said Leo. "And they'll be weighing carefully their options in relation to the 2018 cycle."
Gorsuch, 49, nominated to replace the late Justice Antonin Scalia, is meeting individually with senators this week to seek their support. Two of the Trump-state Democrats, Joe Manchin of West Virginia and Jon Tester of Montana, have already met with Gorsuch and say they're swayable.
"I have not made a decision yet on that, but I am open," Tester said. He said he and Gorsuch discussed issues related to the Clean Water Act, abortion and campaign finance.
'Perilous' Times
Senate Minority leader Chuck Schumer met with Gorsuch Tuesday and told reporters he was a "very smart" and capable man who likes being a judge.
"But his nomination comes at a perilous time in the relationship between the executive and judicial branches," said the New York Democrat, who said it was "more imperative than ever" that the Supreme Court will serve as a check to the Trump administration.
Leo said there's an all-out push to convince Trump-state Democrats to provide 60 votes to advance Gorsuch to a confirmation requiring a simple majority, even if they ultimately don't back him.
Curtis Levey, a constitutional law attorney for FreedomWorks, a Tea Party group backing Gorsuch, called such a split of votes a "halfhearted filibuster," and that may be the likely path for Gorsuch to reach the high court.
That's how Justice Samuel Alito was confirmed in 2006, Levey said. Then, 19 Democrats voted with Republicans to end a last-minute filibuster of Alito on a 72-25 vote. Minutes later in the final vote, just four Democrats joined Republicans and Alito was confirmed, 58-42.
Rallying the Troops
Trying to fend that off, liberal groups, including the Leadership Council for Civil and Human Rights and NARAL Pro-Choice America, are holding rallies and visiting local offices of the Trump-state Democrats.
Adam Green, a co-founder of the Progressive Change Campaign Committee, said his group will organize an ad campaign in the 10 states around polling that found economic populism, not social issues like abortion, will help move voters there against Gorsuch. The chief focus will be on West Virginia, North Dakota, Missouri, Montana and Indiana, he said, because senators there are seen as most likely to be swayed.
The ad campaign will supplement the blitz already on the airways. In the first week after Trump selected Gorsuch, 1,047 television ads related to confirmation were broadcast across the U.S., according to data from advertising tracker Kantar Media/CMAG. Of those, 43 percent were aired in Tester's home state of Montana, with the Judicial Crisis Network sponsoring all but six of the 454 spots there.
Two other states seeing the most Supreme Court-related ads were Indiana, with 247 ads, and Missouri, with 206.
Taking Positions
Of the 10 senators, Sherrod Brown of Ohio and Tammy Baldwin of Wisconsin have said they'll oppose Gorsuch, at least in a final vote. Brown said his decision centered on his view that Gorsuch would only add to a high court that under Chief Justice John Roberts has issued decisions tilted too much toward corporations.
In interviews this week, two others said they are apprehensive about Gorsuch but haven't made a decision. Bob Casey of Pennsylvania said he has "real concerns" about some of Gorsuch's rulings, but said he's still "in the early stages of review."
Bill Nelson of Florida said he'll meet with Gorsuch soon, but also noted that he's hearing from constituents who are concerned that the addition of another judge to the court's conservative wing will harm minority voting rights.
"People in Florida are petrified that they're going to make it harder for them to vote," he said.
Debbie Stabenow of Michigan said last week she was also undecided but was deeply angered that Senate Republicans refused to consider former President Barack Obama's nomination of Merrick Garland to fill Scalia's seat for the last 10 months of Obama's presidency.
Heitkamp of North Dakota and Claire McCaskill of Missouri will meet with Gorsuch Wednesday. McCaskill says she's taking a time-out in talking about the confirmation, after being accused of "folding to Trump" for saying on Twitter that she believes Gorsuch deserves a hearing and a vote.
"I'm not talking about the Supreme Court nominee at all, in any way," McCaskill said. "I just don't think it's a good idea at this point. I just want to wait and learn and I don't want to get out ahead of it. There is way too much interest in trying to gin up opposition."
— With assistance by John McCormick
Before it's here, it's on the Bloomberg Terminal.
LEARN MORE