Gorsuch Calls Trump's Comments on Judiciary 'Disheartening'
By
Spokesman for judge confirms account from Democrat Blumenthal

Trump chided 'so-called judge' in immigration ban case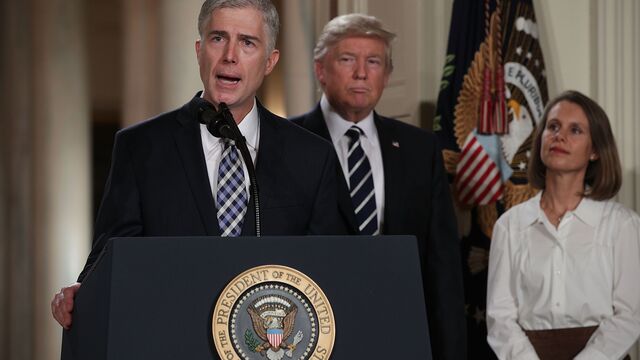 U.S. Supreme Court nominee Neil Gorsuch told a Democratic senator he found Donald Trump's comments "disheartening" and "demoralizing" when the president criticized the judiciary over a federal court order that blocked his immigration ban.
Senator Richard Blumenthal of Connecticut told reporters about Gorsuch's comments after meeting privately Wednesday with Trump's first U.S. high court nominee. Ron Bonjean, a spokesman aiding Gorsuch in the confirmation process, confirmed Blumenthal's account of their conversation in an e-mail and said Gorsuch "used the words disheartening and demoralizing."
"He certainly expressed to me that he is disheartened by demoralizing, abhorrent comments made by President Trump about the judiciary," Blumenthal said outside his Senate office. "But I will be asking for more specific and forthcoming comments to those kinds of questions before I determine how I will vote."
Blumenthal issued a statement later that said he asked Gorsuch to make his statement in public and that the judge declined.
"A Supreme Court justice must prove that he has the courage and independence to stand up to a president in public," said Blumenthal. He added that he was disappointed in Gorsuch's answers on legal issues and that the judge "did nothing to allay my concerns that he will simply rubber-stamp President Trump's destructive policies."
Trump on Feb. 4 criticized a federal judge who blocked his travel ban as a "so-called judge." On Wednesday, the president argued that his power to limit immigration shouldn't be challenged in courts.
"The courts seem to be so political, and it would be so great for our justice system if they would be able to read a statement and do what's right, and that has got to do with the security of our country, which is so important," Trump told a conference of police chiefs and sheriffs in Washington.
QuickTake on Trump's refugee ban and the legal battle over it
Gorsuch's strong criticism of Trump could help convince skeptical Democrats, angry over the president's reaction to the travel-ban ruling, to give Gorsuch more serious consideration. The exchange between Gorsuch and Blumenthal, who serves on the Judiciary panel that will hold the judge's confirmation hearing, comes after demands from Senate Democrats that Gorsuch demonstrate his willingness to be an independent jurist and a check on potential abuses of power from the executive branch.
Blumenthal had told reporters Tuesday that he planned to call on Gorsuch to repudiate Trump's statements about the judiciary.
Asked about Gorsuch's remarks to Blumenthal, Dick Durbin of Illinois, the number two Democrat in the Senate, said calling Trump's remarks about the judiciary "disheartening" is "the mildest possible rebuke."
"That's as soft a pitch as you could throw to someone," said Durbin, who is also a member of the Senate Judiciary Committee that will hear the confirmation.
Republicans, who hold 52 seats, need the support of at least eight Democrats to advance Gorsuch's nomination to a final confirmation vote under current Senate rules.
Trump "has questioned the credibility of a Republican-appointed judge who dared rule against his legally dubious executive order and he has tested the bounds of our Constitution in the first days of his presidency like no other occupant of this office," Senate Minority Leader Chuck Schumer said Tuesday of Trump's reaction. He added that "the bar for a Supreme Court nominee to prove they can be independent has never never been higher."
Gorsuch, 49, was nominated to replace the late Justice Antonin Scalia. An appellate court judge, he is holding one-on-one meetings with senators of both parties as he works to gain enough support to win confirmation to the high court.
Early Poll
One early poll shows a plurality of Americans say the Senate should confirm Gorsuch.
Forty-nine percent of adult Americans in a Jan. 31-Feb. 2 CNN/ORC poll said he should be confirmed, about the same level of support for Samuel Alito in 2005 and Sonia Sotomayor in 2009 soon after they were nominated.
Judge Merrick Garland, President Barack Obama's choice who was blocked by Senate Republicans, received 52 percent support in a poll after he was nominated.
About a third of those surveyed, 34 percent, said they think the Denver-based appellate court judge will be too conservative, compared with 29 percent for Alito, 24 percent for Chief Justice John Roberts and 20 percent for Justice Clarence Thomas.
Of Republicans, 84 percent back Gorsuch while 61 percent of Democrats are opposed.
— With assistance by Derek Wallbank
Before it's here, it's on the Bloomberg Terminal.
LEARN MORE