markets
European Stocks Rise as Investors' Focus Turns Back to Earnings
By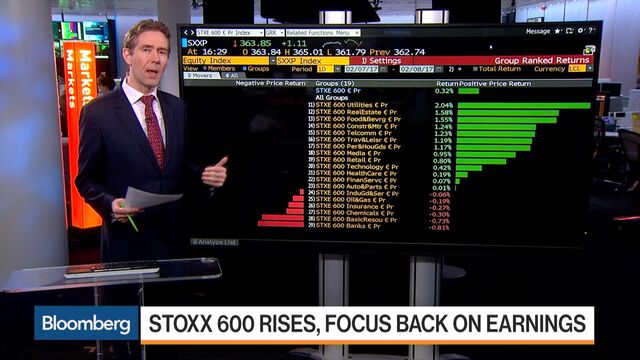 European stocks advanced for a second day, following a gain in real estate companies and raft of corporate results from bellwethers including Sanofi.
The Stoxx Europe 600 Index gained 0.3 percent at the close, erasing a loss of as much as 0.3 percent earlier in the day. The utilities sector index added 2.1 percent, while real estate companies climbed to the highest in a month, with U.K. homebuilders erasing their post-Brexit drop. A gauge of banks retreated for the third consecutive day.

Bonds rose while gold reached a three-month high as demand for haven assets persisted with investors assessing political risks in Europe and the U.S.
To hedge against political risk in the euro area, BNP Paribas's Robert McAdie recommended using equity-index options while taking into account the EUR/USD level. MRA head derivatives strategist Pravit Chintawongvanich also gave some trade ideas and highlighted that the VStoxx Index term structure is pricing in a big event around the French vote.
HSBC equity strategists see only modest equity market upside in 2017, with a rebound in earnings growth partly offset by lower valuation multiples, according to note. They are cautious on Europe, citing the heavy political calendar that reduces visibility and is likely to weigh on investor sentiment.
— With assistance by Elena Popina
Before it's here, it's on the Bloomberg Terminal.
LEARN MORE