Canada Defends Bombardier Aid as Brazil Pushes WTO Challenge
by
Embraer and Brazil say funding violates WTO obligations

Minister argues Trudeau government support is within rules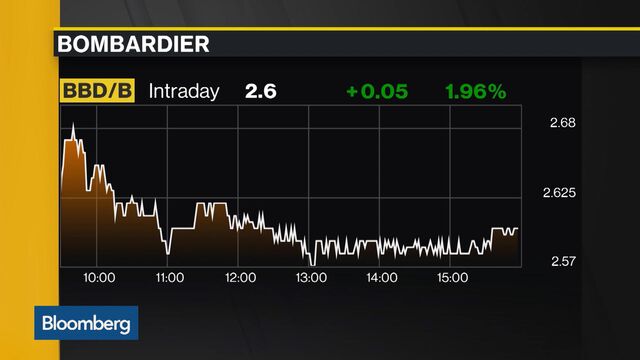 Innovation Minister Navdeep Bains said Canada's financial aid package for Bombardier Inc. is consistent with trade rules, as Brazil pushed for a hearing in front of the World Trade Organization on what it considers unfair subsidies.
The Brazilian government formally sought "consultations" early Wednesday with Canada in front of the WTO with the blessing of Bombardier's South American rival Embraer SA, the latest step in a simmering battle that predates Tuesday's funding. Embraer said Bombardier has received "massive" subsidies of more than $4 billion from various levels of government, which it says violates Canada's WTO obligations.
Bains and three other of Prime Minister Justin Trudeau's top lawmakers announced C$372.5 million ($282 million) in funding for a pair of Bombardier jet programs Tuesday near Montreal, alongside the company's Chief Executive Officer Alain Bellemare. The repayable contributions will be disbursed over four years.
"This is very consistent with our international trade obligations," Bains told reporters in Ottawa Wednesday, adding much of the funding is coming from the government's existing Strategic Aerospace Defence Initiative program. "This is a program that we've had for many years."
Carlos Marcio Cozendey, Brazil's under-secretary-general for economic and financial affairs at its Ministry of External Relations, said in an interview the challenge was prompted by previous cash infusions to Bombardier, but that Tuesday's fit the same theme.
'Without Question'
"We are questioning a number of programs that go from tax exemptions for the plant up to research grants and cash infusions -- so it's a big number of programs that benefit the C Series program directly or indirectly," Cozendey said Wednesday. "What was announced yesterday is also a subsidy, because it's a loan without interest -- it's without question a subsidy."
Wednesday's complaint launches a 60-day consultation period. Brazil can then escalate its complaint and trigger a three-member WTO panel at any time after that 60 days, Cozendey said. It wouldn't do so if productive talks are continuing, and would end its challenge altogether if a mutual agreement was reached to pare back Canadian funding programs that Bombardier has benefited from, he said.
"No one starts a dispute for the dispute. When we start a dispute, we start it because we want to resolve the issue," he said. "It has to be a solution that would allow companies to compete in fair terms from now on. There are a big number of programs involved so we would have to see what the Canadian government is willing to do with those programs."
Embraer Complaint
Speaking to Bloomberg TV Canada Wednesday afternoon, Bains defended the Bombardier funding, saying it's focused on supporting research and development "and that's why we feel this is consistent with our international obligations." A day earlier, Trade Minister Francois-Philippe Champagne said he was "very much prepared to defend what we are doing" in the event of WTO challenges.
About C$250 million of the Canadian funding is for Bombardier's Global 7000 jet, with the remainder for its C Series, a program that has sparked a long-simmering spat with Embraer. Bellemare said Tuesday Quebec's C Series investment is fully WTO-compliant.
The Brazil trade move comes after the country's officials authorized the opening of dispute settlement proceedings in December -- meaning Wednesday's request was made hours after the federal aid package but was initially sparked by previous cash injections to the manufacturer.
In a statement, Embraer said $2.5 billion "was provided" to Bombardier from Canadian governments in 2016. They didn't detail that claim.
Bombardier sold a 49.5 percent stake in the C Series to the Quebec government, and a 30 percent stake in its train unit to the Caisse de Depot et Placement du Quebec, the province's largest pension fund manager. The two deals, announced in 2015, total $2.5 billion.
Funding Details
In a statement Wednesday, Embraer CEO Paulo Cesar Silva said Canada's provision of government funds have "not only been fundamental in the development and survival of the C Series program, but have also allowed Bombardier to offer its aircraft at artificially low prices" to buyers.
"It is essential to restore a level playing field to the commercial aircraft market and ensure that competition is between companies, not governments," he said in written statement. The request for "consultation" is described by Embraer as the first stage of the WTO dispute and will allow "access to additional information regarding the support given to Bombardier."
The trade dispute could hinge on details of the federal funding that have yet to be released.
Bains said Tuesday the funds included "no interest rates." He declined Wednesday to detail the "commercially sensitive" arrangement, but said "there is an implicit rate of return built into that, and that amount would be for the foreseeable future."
The size of the funding commitment and its timing just before reported earnings -- due later this month -- suggest it could be needed to fund essential work like a challenge in Global 7000 development or a first look at a larger version of the C Series, according to George Ferguson, senior air transport analyst at Bloomberg Intelligence. "After all, they need more orders for the C Series and so far they just aren't coming," he said.
Before it's here, it's on the Bloomberg Terminal.
LEARN MORE