AOL Pledges Women Will Make Up 50 Percent of Leadership by 2020
By
CEO Tim Armstrong plans for equal pay and recruiting changes

Gender diversity goal is 10 years sooner than others have set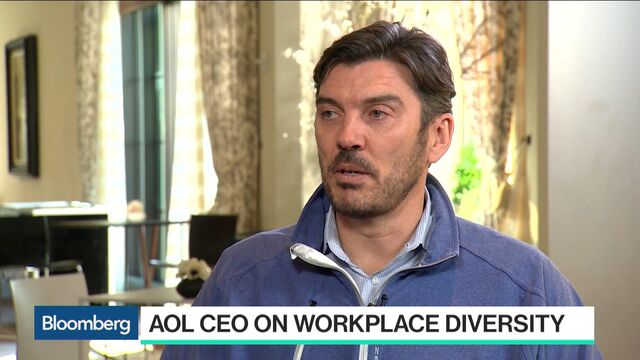 AOL Inc. Chief Executive Officer Tim Armstrong set a goal to have women represent 50 percent of the organization's leadership by 2020, joining a push by corporate America to make the top ranks of executives more fully reflect the population.
The company, which was acquired by Verizon Communications Inc. in 2015, is also targeting equal pay by 2020, Armstrong said Tuesday in an interview on Bloomberg TV from the Makers Conference in Rancho Palos Verdes, California. More than 30 executives from companies like LinkedIn Corp., Nordstrom Inc. and Bank of America Corp. have committed to complete gender equality by 2030. Armstrong's goal is 10 years sooner than that.
"It is a bold goal, but we will figure it out," Armstrong said. "We will figure out how to do it and our employees are engaged and excited." The goal will include executives in the top four levels of the company, AOL said.
Watch more of Armstrong's interview on Bloomberg Television here
Analysts have said diversity helps companies get better returns and more talented recruits. A study released by McKinsey & Co. found that gender-diverse companies are 15 percent more likely to outperform those with low diversity.
Armstrong said the process will start with overhauling AOL's recruiting process and putting steps in place for female executives to advance within the company.
— With assistance by Jeff Green, Gerry Smith, and Laura Colby
Before it's here, it's on the Bloomberg Terminal.
LEARN MORE