Your Evening Briefing
Bloomberg News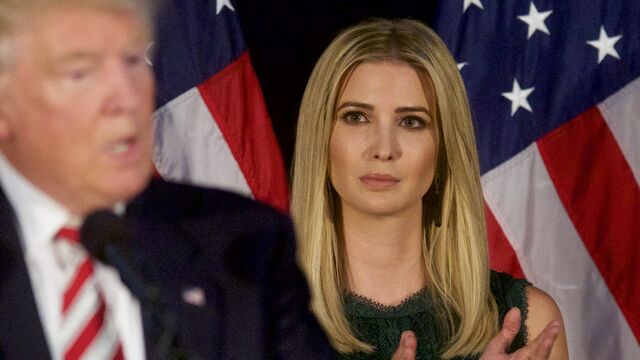 Want to receive this post in your inbox every afternoon? Sign up here.
She doesn't have a formal role in her father's administration, but Ivanka Trump has a quiet, subtle power in the White House–with direct lines to President Trump and her husband, Jared Kushner, a senior adviser to the president. She appealed to women voters and pulled her father a little left during the election, but what comes now? A new Bloomberg video explores her influence, while she and Kushner take a non-traditional diplomatic role with China. –Emily Banks
These are the face of American unemployment. Even at so-called full employment in the U.S. labor force, some 20 million Americans are left behind. The problems that keep today's jobless stuck on the sidelines are different than those of past recoveries: a complex web of often interrelated issues from disability and drug use to criminal records.
China is courting Ivanka Trump and Jared Kushner to smooth ties with the president. As countries around the world figure out how to influence the new U.S. administration, China is going straight to the top: Trump's immediate family. In bypassing traditional diplomatic channels, China is looking to open a more direct link to help avoid a trade war or military confrontation.
Iran will respond to growing hostility from President Trump when it celebrates the anniversary of the 1979 Islamic Revolution this week, Supreme Leader Ayatollah Ali Khamenei said. Iranian officials have said they won't be intimidated by the Trump administration, which put their nation "on notice" for testing a ballistic missile last week and then sanctioned a list of entities it said were linked to the missile program.
The Senate confirmed Betsy DeVos as education secretary. Vice President Mike Pence made history by breaking the 50-50 tie to confirm DeVos, a longtime GOP donor who of all the Cabinet picks generated the most heat in the chamber. Leading up to the vote, Democrats had held the floor for 24 straight hours in the hope of pressuring another Republican to vote against her.
Trump's H-1B visa crackdown threatens cutting-edge U.S. medicine. To crank out discoveries, U.S. biotech firms and overseas companies with stateside operations rely on the world's best scientists and lower-level researchers with scarce expertise. A crackdown on visas for these workers could set back research, including the treatment of cancer, executives said.
Another week, another major airline crippled by a software glitch. Few major carriers have been immune to tech glitches, including most recently outages from Delta and United. Legacy hardware mixed with new technology, mergers, and the primacy of safety has made for some frustrating travel days. But while you're hearing about these incidents more often, it's not necessarily because they're happening more frequently.
Don't let your bonus burn a hole in your pocket. Our choose-your-own-adventure guide lets you select the amount and who you're spending the money on. Take it for a whirl, whether you're spending a few hundred dollars or a few hundred thousand dollars.
Before it's here, it's on the Bloomberg Terminal.
LEARN MORE