U.K. Speaker Defends Trump Ban in Face of Lawmakers' Criticism
By and
'Within the remit of the chair,' Bercow tells House of Commons

Lords counterpart accepts apology over breach of protocol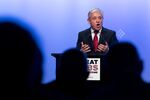 The speaker of the House of Commons said he was right to say U.S. President Donald Trump cannot address Parliament in London on his state visit later this year.
Accused of overstepping his authority, John Bercow did say sorry to his counterpart in the upper house for not consulting with him before issuing the ban. Yet he stood by his actions and defended his power to prevent foreign leaders from speaking to U.K. lawmakers.
"I was commenting on a matter that does fall within the remit of the chair," Bercow, 54, said, after acknowledging that not everyone agrees with him. "I was honestly and honorably seeking to discharge my responsibilities to the House."
Bercow used to be a Conservative Party lawmaker before being elected to the independent post of speaker in 2009 and is no stranger to the limelight. Most of the criticism came from Tories, who have asked him to reconsider his decision.
Bercow made the case that it would unsuitable for the president to be given the honor of addressing both house of parliament. He cited Trump's migration ban and "our opposition to racism and to sexism."
Hypocritical?
Former minister James Duddridge described Bercow's statement as "wholly inappropriate" in an interview with Sky News, while Nadhim Zahawi told the BBC he risked being seen as "hypocritical" since he had happily hosted a visit by China's President Xi Jinping.
"Yesterday did cause some of us concern," Gerald Howarth, a senior Tory lawmaker, told Bercow in parliament on Tuesday. "I do hope Mr. Speaker that you will help us to ensure that we can have full confidence in your impartiality because that is the way this house has to proceed."
Norman Fowler, speaker of the House of Lords, confirmed that both he and Bercow have to agree for a speech to be made in Westminster Hall, one of the oldest buildings in London, which has hosted Trump's predecessor Barack Obama, Nelson Mandela and Pope Benedict XVI. He expressed displeasure at not being consulted but said he accepted Bercow's apology.
"I will keep an open mind," Fowler, a cabinet minister under Margaret Thatcher. "I do not intend to argue the case for or against Mr. Trump's visit, that is not my role as speaker, but allow me to say that I've spent the last 30 years campaigning against prejudice and discrimination, particularly for the rights of LGBT people and those with HIV-Aids."
Before it's here, it's on the Bloomberg Terminal.
LEARN MORE