Trump's Plan for Banks Puts Basel in Limbo, Danske CFO Says
By
Danske Bank CFO Jacob Aarup-Andersen comments in interview

EU needs to follow U.S. to ensure level playing field: Danske
U.S. efforts to dismantle some bank regulations have left global work on a post-crisis framework in limbo, according to the chief financial officer of Denmark's biggest bank.
Talks focused on concluding the final chapter of standards under the Basel Committee on Banking Supervision, dubbed Basel IV by the industry, now look "a bit up in the air," Jacob Aarup-Andersen, CFO of Danske Bank A/S, said in an interview with Bloomberg TV's Manus Cranny and Anna Edwards in London on Tuesday.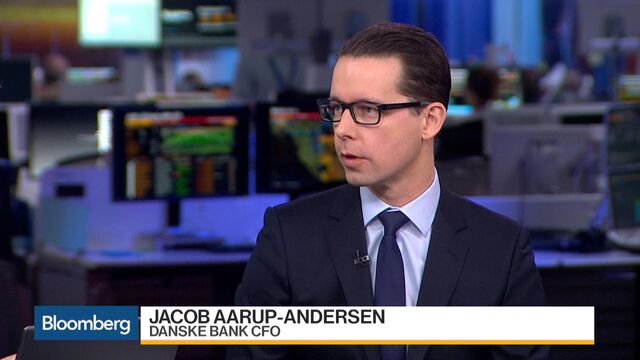 He's the latest banker to add his voice to industry calls that Europe not move independently of the U.S., amid warnings that doing so would put lenders in the region at a competitive disadvantage. Banks are justified in wanting equal terms on both sides of the Atlantic, Aarup-Andersen said.
"What is important for us is very much that we get a level playing field, that we don't get a U.S. deregulation that is not followed up by European regulations as well," he said.

The administration of President Donald Trump has demanded that regulators produce a study on financial rules within 120 days as a first step toward unwinding safeguards put in place by the Obama administration following the 2008 financial meltdown. Regulations that Trump plans to target include a ban on proprietary trading, a requirement that risky financial companies be subject to tough Federal Reserve oversight, and rules for taking down failed banks. The Consumer Financial Protection Bureau may also be axed.
It remains to be seen how much of the talk coming from the Trump administration is just noise and how much will actually make its way into the legislation.
Read more: Dodd-Frank may not be that east to dismantle
"There is a lot of thunder at the moment, but let us see what the concrete measures will actually be," Aarup-Andersen said. "But there is no doubt that it has thrown up a number of things including Basel IV a little bit up in the air."
At Danske Bank, management is taking a "conservative" approach in interpreting the signals coming from the U.S., he said. "Let's not celebrate too early, but there are some elements that are right in terms of the deregulation agenda." 
Before it's here, it's on the Bloomberg Terminal.
LEARN MORE