Five Things You Need to Know to Start Your Day
Get caught up on what's moving markets.
By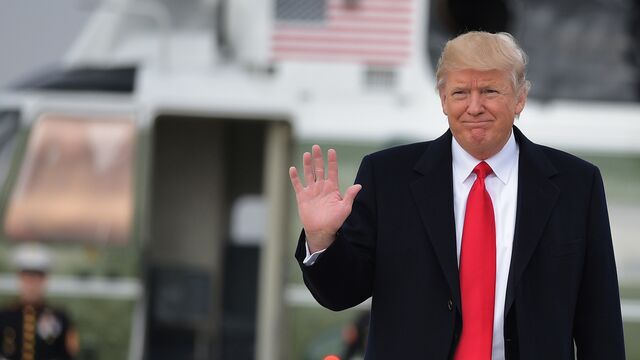 Want to receive this post in your inbox every morning? Sign up here.
The administration returns to court, the dollar rallies, and the IMF says Greece will miss targets. Here are some of the things people in markets are talking about today.
Immigration ban
An appellate court in San Francisco will hear arguments from Justice Department lawyers today demanding the reinstatement of a travel ban on nationals from seven Muslim-majority countries. Google parent company Alphabet Inc. is organizing the funding of a legal brief opposing the president's executive order in what has become the first major policy challenge for the new administration. President Donald Trump continues to defend the ban on Twitter in his familiar style. 
Dollar rally
The greenback is heading for its biggest advance in three weeks, with the Bloomberg Dollar Spot Index gaining 0.8 percent by 5:15 a.m. ET as the currency strengthened against all major peers. The pound was among the biggest losers, falling to a two-week low as Brexit and economic growth concerns return to put pressure on sterling. Meanwhile, nerves over Europe's upcoming elections continue to haunt the euro.
IMF on Greece
It's deja vu all over again as the International Monetary Fund says that Greece won't meet targets set by Europe for the country to run a budget surplus. The fund also reiterated its view that Greece's debt levels are unsustainable. European Central Bank president Mario Draghi reaffirmed that the euro is irreversible in response to questions yesterday at the European Parliament. 
Markets mixed
Overnight, the MSCI Asia Pacific Index slipped 0.3 percent, with Japan's Topix index also dropped 0.3 percent as exporters lead the declines. In Europe, the Stoxx 600 Index had gained 0.4 percent by 5 :39 a.m. ET as real-estate stocks were lifted by a rally in bonds. S&P 500 futures were indicating a slightly higher open. 
Oil earnings
BP Plc's fourth quarter earnings came in below analyst expectations, with the company saying that its cash flow won't cover spending and dividends until Brent crude rises above $60 a barrel. Statoil ASA, Norway's biggest oil company, said that it is targeting another $1 billion in cost savings after reporting an unexpected loss in the fourth quarter. West Texas Intermediate for March delivery was trading at $52.84 a barrel at 5:35 a.m. ET ahead of tomorrow's U.S. crude stockpiles report. 
What we've been reading 
This is what's caught our eye over the last 24 hours.