Trump-Backing Australia Lawmaker Ditches Turnbull for Own Party
By
Senator Cory Bernardi to form new conservative party

Defection may complicate Turnbull's ability to legislate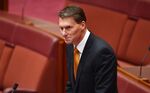 A Donald Trump-supporting conservative Australian lawmaker is breaking away from Malcolm Turnbull's government as the prime minister battles to contain a populist mood that's draining votes away from the major parties.
Senator Cory Bernardi, 47, announced in Canberra on Tuesday that he's forming his own Australian Conservatives party, just seven months after being re-elected to a six-year term representing Turnbull's Liberal party. So far, no other lawmakers from the ruling coalition have said they will join him.
"The level of public disenchantment with the major parties, the lack of confidence in our political process and the concern about the direction of our nation is very, very strong," Bernardi told parliament when announcing the split. "It really is time for a better way; a conservative way."
Turnbull's government lacks a majority in the upper house and needs the support of minor parties -- including the anti-immigration One Nation group -- to pass laws. Bernardi is still expected to vote with the government on economic-management issues.
Bernardi is seeking to capitalize on voter frustration with mainstream politics that's seen support rise for minor parties and independents. While the prime minister will welcome the exit of the divisive senator, it may complicate Turnbull's efforts to implement his legislative agenda.
Far-Right Competition
"In the short term, it will be good for Turnbull to have Bernardi out of his party, which he was always criticizing for being too moderate," said Jill Sheppard, a political analyst at the Australian National University in Canberra. "But if Bernardi can operate effectively with the other cross-benchers, he may be able to pull legislation further to the right."
Bernardi will compete with One Nation for the support of politicians on the far right, Sheppard said.
"He seems to be out on his own," she said. "There's probably only room for one successful party to the right of Turnbull's coalition, so Bernardi and One Nation are probably going to have to fight it out for that space."
During his decade-long career as a senator, Bernardi has criticized global-warming science and Islam immigration. The author of a book called "The Conservative Revolution" welcomed the election of Trump as president, and said in November he wanted to be a "catalyst for change" in Australia.
Bernardi was fired for "ill-discipline" as an opposition parliamentary secretary by then-opposition leader Tony Abbott in 2012 after saying same-sex marriage could lead to legal polygamy and a push to decriminalize bestiality.
Before it's here, it's on the Bloomberg Terminal.
LEARN MORE