Tompkins's Heirs Said to Tap Lazard to Sell Argentine Ranches
By
Deals may fetch $50 million from high net-worth bidders

Conservationist, North Face founder died in 2015 kayak mishap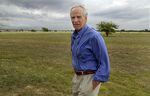 The heirs of American conservationist and North Face Inc. founder Douglas Tompkins, who died in a 2015 South American kayaking accident, have chosen Lazard Ltd. to divest ranches in Argentina's Mesopotamia region, two people aware of the plan said.
MBA Lazard, the firm's South America unit, is marketing ranches in Entre Rios province to high net-worth individuals, the people said, asking not to be named as the deal is private. More than $50 million is expected from the sales, they said.
The ranches, or "estancias" in Spanish, were originally bought by Tompkins and his widow Kristine McDivitt for restoration from conventional agriculture to organic polyculture, which intermixes grain production with fruit, nut and olive orchards; honey production; aromatic and medicinal plant cultivation; and cattle and sheep ranching. The Tompkins Conservation, through its Conservation Land Trust, owns three estancias in Entre Rios province, Campo Laguna Blanca, El Transito and Campo Malambo, totaling 17,263 hectares (43,000 acres).
The Conservation Land Trust declined to comment on the sales, Marian Labourt, a press official at the trust, said in an e-mail. She also declined to comment on behalf of the heirs. MBA Lazard didn't reply to requests for comment.
McDivitt, former chief executive officer of outdoor-clothing company Patagonia Inc., met Argentine President Mauricio Macri in December to donate 150,000 hectares in Mesopotamia's Corrientes province, where the government plans to create Argentina's largest nature reserve, the wetlands of Esteros del Ibera.
Tompkins, who also founded fashion company Esprit Holdings Ltd. and later sold both firms to buy hundreds of thousands of acres of land in Argentina and Chile for preservation, died of severe hypothermia in 2015, following a kayak accident on Lago General Carrera, on the Chilean-Argentine border. He was 72.
In 2011, Congress passed a bill limiting the purchase of farmland by foreigners to a total of 15 percent of the country's rural areas, and 1,000 hectares (2,471 acres) each. Macri modified the law in July via a decree, returning to foreigners the ability to buy at their wish.
— With assistance by Carolina Millan
Before it's here, it's on the Bloomberg Terminal.
LEARN MORE