South Africa to Deploy Army for Zuma's Address in Parliament
Andre Janse van Vuuren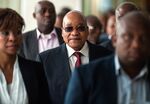 South Africa's President Jacob Zuma approved the deployment of the country's army to maintain order during the opening of parliament this week.
The police and 441 members of the South African National Defence Force will be stationed at the parliament buildings until Feb. 10, the Presidency said in an e-mailed statement on Tuesday. Zuma is scheduled to deliver his opening address, which was disrupted by opposition parties inside and outside the assembly last year, on Thursday.
Before it's here, it's on the Bloomberg Terminal.
LEARN MORE