Exercise
Six Boutique Gyms With the Heart of CrossFit
Fierce strength-and-conditioning elevates workouts to an 11.
By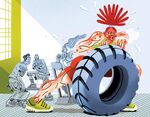 Level 3: Extreme
RiseNation, Los Angeles
$30 for three 30-minute classes; rise-nation.com
All sessions at celebrity trainer Jason Walsh's studio take place on VersaClimbers, which mimic a full-body vertical climbing motion. This class lives up to its name: To simulate an arduous mountain ascent, it distills a regular hour session into half the time, requiring participants to climb faster and take longer strides.
BurnOut
New York Pilates, New York
$39 for 55 minutes; newyorkpilates.com
The Pilates "reformer"—a platform with springs, pulleys, and loops for your hands and feet that increases resistance while exercising—looks like a torture device. New York Pilates owner Heather Andersen makes it one for this session, which features planks, squats, and situps on the machine ("Lots of them," she says) but not the more fluid moves of a standard Pilates class.
The Machine Gun
Dogpound, New York
$42 for 60 minutes; thedogpound.com
This mix of rapid-fire exercises—yoga, resistance training, boxing, core-strength activities, ballet, and cardio—is uniquely calibrated depending on whether you want to get leaner, become more flexible, increase core strength, or bulk up.
Super Slow TRX
It's Working Out, Cincinnati
$25 for 50 minutes; itsworkingout.com
TRX is an abbreviation for "total resistance exercise." That's what this class offers, with a grueling series of swinging leg curls, pullups, tricep extensions, and crunches, using bands attached to the ceiling or a wall. Each rep lasts a superslow 12 seconds, vs. TRX's typical 2, for an added endurance challenge.
Brawl
The Barre Code, Chicago
$22 for 50 minutes; thebarrecode.com
Brawl takes the studio's standard glute-burning barre routine of pliés and leg lifts and adds a cardio-kickboxing sequence—float-like-a-butterfly-style jabs, 180-degree jumping turns, and speed-bag work. "What makes the class intense is not a specific movement, but the way the movements fit together in sequence," says Dana Farber, director for brand development.
Firestarter
Equinox gyms nationwide
Free with membership, 30 minutes; equinox.com
This is interval training on steroids, condensing a 45-minute class into 30 with a blitz of lightning-fast moves. Think power leaps over a step bench, tuck jumps (leap and pull your knees to your chest like a cheerleader), and squat hops (hop from—and land in—a squat position).
Before it's here, it's on the Bloomberg Terminal.
LEARN MORE