Singapore Air Extends Jet Fuel Hedging as OPEC Cuts Sway Oil
By
Carrier flags volatile fuel prices, uncertainty in oil output

Reports 36% decline in third-quarter profit; shares gain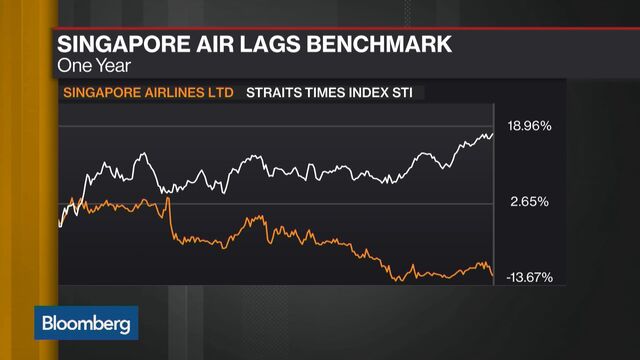 Singapore Airlines Ltd., Southeast Asia's biggest carrier, extended some of its fuel-hedging contracts to as long as five years, betting on an upswing in crude oil prices amid OPEC production cuts and renewed tensions between the U.S. and Iran.
The marquee airline, which reported a 36 percent drop in profit for the three months through December, said Tuesday that it has entered into longer-dated Brent hedges with maturity extending to 2022. Earlier, the company used to hedge only for a maximum period of 24 months, according to spokesman Nicholas Ionides.
"Clearly they are taking a view that oil prices will gradually go up," said Mohshin Aziz, an analyst at Maybank Investment Bank Bhd. in Kuala Lumpur. "It's out of their norm as they usually do it 18 months forward. I don't think it's a bad move."
Singapore Air, which is battling overcapacity and aggressive pricing by budget airlines in the region, is seeking to cut costs as passenger yields -- a key measure of profitability in the industry -- continue to be under stress. Jet fuel accounted for 26 percent of the company's total expenditure last quarter, making it the single biggest cost.
Brent crude, trading at $54.76 a barrel, has gained about 8.5 percent since major oil producing nations agreed in December to trim output, while policies of U.S. President Donald Trump have fueled uncertainty over prices.

Shares of the airline rose 0.8 percent to S$9.80 in Singapore on Wednesday, paring their losses in the past year to 12 percent.
"Fuel prices have trended upward since the last quarter and are expected to remain volatile as uncertainty lingers around global oil production," Singapore Air said in a statement on Tuesday. "The group regularly reviews and adapts its fuel hedging policy to manage volatility in fuel prices."
For the current quarter, the airline said it has hedged about 37 percent of its jet fuel requirements in Singapore Jet Kerosene at a weighted average price of $67 a barrel. Its longer-dated Brent contracts extend to 2022, covering between 33 percent and 39 percent of its projected annual consumption at an average $53 to $59 a barrel.
"Only time will tell, but I think they did it in a safe manner," Maybank's Mohshin said. "It's only one-third. If they are wrong, they're only partially wrong. They're not humongously wrong."
U.S. policies on trade, new tensions with Iran and doubts whether major oil producing nations will curb output as pledged have kept investors on tenterhooks. Brent crude may fluctuate between $52 and $62 a barrel this year, according to Kho Hui Meng, the head of the Asian arm of Vitol Group, the world's biggest independent oil trader.
Singapore Air, Cathay Pacific Airways Ltd. and other carriers have reported losses from hedging on fuel as well because they locked in contracts at prices that were much higher than the market. Carriers try to smooth fuel-price swings with advance purchase contracts linked to the cost of crude.
Hedging Losses
Losses from fuel hedging for Singapore Air were at S$365.9 million in the three quarters through December, following an annual loss of S$1.17 billion in the fiscal year through March 2016.
The airline reported a net income of S$177.2 million last quarter after a S$79 million writedown due to the rebranding of Tigerair. It predicts 2017 to be another challenging year amid "tepid global economic conditions and geopolitical concerns." Cathay Pacific said last month that it will eliminate some positions as part of a business review, with key changes set to kick in by mid-year.
"The group will maintain vigilance over its costs, and its strong balance sheet positions it well to weather the many challenges ahead," Singapore Air said in Tuesday's statement.
Before it's here, it's on the Bloomberg Terminal.
LEARN MORE