Schumer Says Gorsuch Avoided His Questions 'Like the Plague'
By
Top Senate Democrat expresses doubts on Trump high court pick

Schumer says Trump's first Supreme Court choice needs 60 votes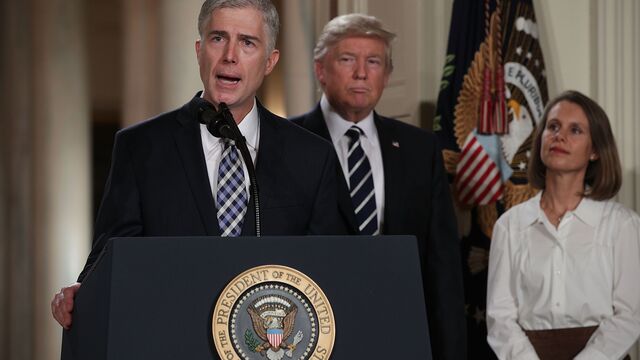 Senate Minority Leader Chuck Schumer said Tuesday that his concerns about Supreme Court nominee Neil Gorsuch deepened after they met privately.
The New York Democrat said President Donald Trump's nominee was evasive when asked questions related to the travel ban Trump is trying to impose on seven Muslim-dominated nations and several other issues.
"The judge today avoided answering questions like the plague," Schumer told reporters. He said he also asked for Gorsuch's views on the Supreme Court's 2010 Citizens United campaign-finance decision and the Constitution's emoluments clause that bars officeholders like Trump from accepting gifts from foreign states.
Schumer said he still has "serious, serious questions" about Gorsuch, but hasn't decided how he'll vote. Senate Democrats will continue to insist that Gorsuch receive support of at least 60 lawmakers to advance to a confirmation vote, he added.
Schumer is navigating a confirmation that is likely to splinter his party and could lead to a showdown with Republicans over Senate rules. Trump has called on Senate Republican leader Mitch McConnell to "go nuclear" and end filibusters on high court nominees if Democrats utilize one now. In a Senate where Republicans hold 52 seats, it takes 60 votes to end a filibuster on Supreme Court nominees, but only 51 in a formal confirmation vote.
Democrats have several difficult calculations to make, including whether to ensure the filibuster lives on for future court fights, and how hard to pressure Democrats from states Trump won in November to oppose the president's first Supreme Court pick. Ten such Democrats are on the ballot in 2018. Many liberal groups are urging Democrats to block Gorsuch at all costs.
Schumer said the bar moved higher for Gorsuch after Trump called a federal judge in Washington state who ruled against his travel ban a "so-called judge."
"Time and time again, the president has attacked the rule of law," Schumer said.
Gorsuch, a judge on the 10th U.S. Circuit Court of Appeals, is 49 years old and would be the youngest justice since 43-year-old Clarence Thomas joined the court in 1991.
So far, no Senate Republicans have said they will oppose Gorsuch, although he is continuing to meet individually with senators.
Appearing beside Schumer on Tuesday, a group of Democrats who serve on the Senate Judiciary Committee expressed concerns about Gorsuch. Senator Richard Blumenthal, a Connecticut Democrat, said that when he meets with the judge Wednesday, he will ask him to "repudiate" Trump's attacks on the judiciary.
"Judge Gorsuch ought to be accountable" to state his views on that issue, Blumenthal said.