RBNZ Governor Wheeler to Step Down When Term Ends in September
by
Wheeler says was always his intention to serve just one term

Spencer to be caretaker governor for 6 months after election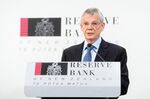 New Zealand central bank governor Graeme Wheeler will step down when his term ends in September and hand the reins to a deputy until a permanent successor is appointed in 2018.
Deputy Governor Grant Spencer will helm the Reserve Bank for six months after Wheeler departs on Sept. 26, Finance Minister Steven Joyce said Tuesday in Wellington, citing the proximity of the Sept. 23 general election. "This will give the next government time to make a decision on the appointment of a permanent governor," Joyce said in a statement.
Wheeler today ended weeks of speculation over his future, saying it was never his intention to seek a second term as governor. Appointed in 2012, his tenure has been marked by a battle to revive inflation even as New Zealand's economy outperformed its developed peers and the housing market boomed. While inflation is finally showing signs of accelerating toward 2 percent, the midpoint of the RBNZ's target range, economists don't expect policy makers to lift borrowing costs from a record low any time soon.
 
"The announcements today make it even harder for them to raise rates in 2017 because it's unlikely that Spencer is going to want to mess around with interest rates in a caretaker capacity unless he's absolutely forced to," said Stephen Toplis, head of research at Bank of New Zealand in Wellington. The chances of Wheeler raising rates just before an election "seems intuitively unlikely as well," he said.

Current policy settings, with the official cash rate at 1.75 percent, should be sufficient to achieve the bank's inflation goal, Wheeler said in December. His next rate decision is due at 9 a.m. in Wellington on Feb. 9, after which he will hold a media briefing.
RBNZ governors are appointed for five-year terms and Wheeler, 65, will be the first to serve just one since Spencer Russell in the mid-1980s. Don Brash governed from 1988 to 2002, followed by Alan Bollard until 2012.
"It has been a great privilege to serve in this role, and in the remaining eight months I will remain fully focused on the economic challenges and opportunities facing the New Zealand economy," Wheeler said in a statement today.
Spencer, 64, first worked for the RBNZ in 1976 and has headed its Financial Stability division since 2007. He agreed to defer his retirement to fill the role of acting governor and won't be applying for the permanent position, Joyce said.
Turbulent Time
A former senior World Bank official, Wheeler has endured a turbulent time at the helm of the central bank.
Having witnessed the U.S. subprime crisis first-hand, Wheeler brought a wariness of loose monetary policy to the role. But his decision to raise rates in 2014, becoming one of the first central bankers in a developed economy to tighten policy in the wake of the global financial crisis, proved premature.
After lifting the OCR four times in quick succession, he was forced to reverse course in 2015 and cut borrowing costs as inflation slowed to near zero.
Wheeler's initial tightening was later criticized by then Finance Minister Bill English, who said it had damped economic growth, while his subsequent easing was ponderous, earning him the moniker "the reluctant cutter."
"The governor has performed his role calmly and expertly during a highly unusual period for the world economy," said Joyce.
Unhelpful Fed
Wheeler wasn't helped by the U.S. Federal Reserve, whose delay in raising rates kept upward pressure on the New Zealand dollar, damping import prices and making it harder for the RBNZ to achieve its inflation goal.
But his 2014 rate increases and subsequent tendency to discount looser policy also buoyed the currency, and efforts to weaken it through intervention and verbal warnings have been largely in vain. The so-called kiwi has averaged 77 U.S. cents on Wheeler's watch, compared with its long-run average of 63 cents.
Wheeler was unlucky to be battling very weak inflation at a time when New Zealand's housing market was surging due to a supply shortage the government was slow to address. Wary of fueling a housing bubble, he introduced mortgage lending restrictions in an effort to curb housing demand and give himself scope to lower borrowing costs.
While the measures led to friction with the government because they made it harder for first-home buyers to enter the market, they have served to temper house-price gains and mitigate risks to financial stability.
Communication Challenge
Communication has also been a challenge for Wheeler.
Over the past two years, he has reduced the number of on-the-record speeches by the bank's policy makers, and also barred media from the one speech a year they had been invited to attend.
The leaking of a rate decision in March last year forced him to abandon a long-held tradition of lockups for media and analysts before policy announcements, while several leading economists criticized the governor after speeches he gave steered them in the wrong direction on rates.
At the same time, he has presided over one of the best-performing economies in the developed world. Growth accelerated to 3.5 percent in the year through September and is forecast to maintain a pace of around 3 percent in 2017.
Inflation quickened to 1.3 percent in the fourth quarter of 2016, moving back into the RBNZ's 1-3 percent target range for the first time in more than two years. Wheeler will unveil a new set of forecasts on Thursday, which may bring forward the bank's projected attainment of its 2 percent goal.
Under Wheeler, the RBNZ won the central bank of the year award for its 2014 policies from London-based Central Banking Publications. It cited the bank's rate increases and macro-prudential measures when bestowing the award in early 2015.
Before it's here, it's on the Bloomberg Terminal.
LEARN MORE