economics
RBA More Likely to Cut Than Raise Rates, UBS's Anderson Says
By
Sees chance of Australia losing AAA rating as greater than 50%

Aussie dollar could become a headwind for key services sector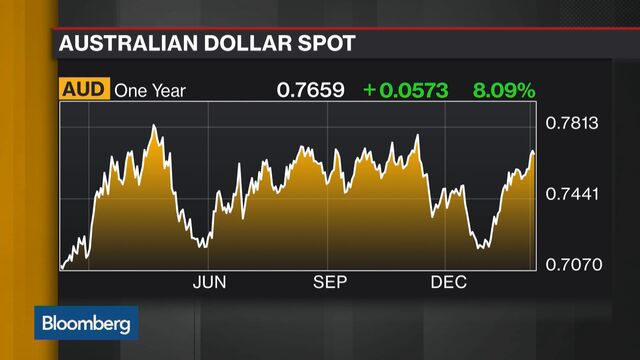 Australia's central bank is more likely to cut interest rates than raise them if it moves at all this year, while an appreciating local dollar could make economic conditions tougher for industries outside mining, UBS Group AG's Anne Anderson said.
"Should they need to ease, I think it's more likely that they would have to take a more aggressive stance and move to 1 percent, so take half a percent off the cash rate," Anderson, head of Australian fixed income at UBS Asset Management in Sydney, said in an interview with Bloomberg Television Tuesday. The Aussie dollar's strength "could provide a headwind for our services sector, which is one of the major drivers of our economy," she added.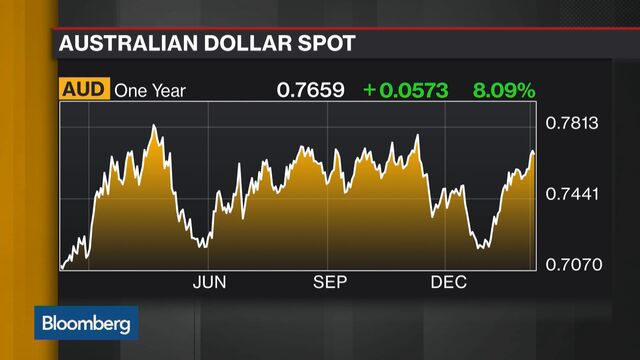 Reserve Bank of Australia Governor Philip Lowe will announce the outcome of the board's first policy meeting this year at 2:30 p.m. in Sydney, with 27 of 28 economists predicting no change from the current record-low 1.5 percent, and one forecasting a cut. Policy makers have shown a greater willingness to tolerate weak inflation as they try to maintain financial stability in an environment of surging property prices in Sydney and Melbourne.
"Certainly house prices have reignited, and that's an issue from a financial stability perspective so they've got no interest in adding to that," Anderson told Bloomberg TV's 'Daybreak Australia' program. "But nonetheless I think other macro drivers will be more important and override that as we move through this year."
Subdued Inflation
Australia's economy unexpectedly contracted in the third quarter, though most economists expect it to have rebounded in the final three months of the year. Meanwhile, weak wage growth as the economy adjusts to the end of a mining bonanza has compressed inflation, which has remained below the RBA's target for the past nine quarters. A more than 5 percent jump in the currency last month is also likely to keep a lid on import prices.
"Weakness in inflation is structural and it's something that will take much longer to normalize, notwithstanding the global pulse of inflation increasing," Anderson said. "I think some of the unique characteristics of Australia mean that our inflation will stay outside the target band of 2 to 3 percent for a little bit longer than previously expected."

Looking ahead, markets are pricing in little chance of further policy easing this year, and switch to betting on some chance of a rate increase late in the year. Anderson said while an extended pause was possible, in her view the economic situation could unfold in a way that rates were "more likely to be down than up."
Bond Spread
Asked about the premium between U.S. Treasuries and Aussie bonds, Anderson said "this year you could see Australia trade through the U.S. as U.S policy normalizes and Australia is either on hold or if anything would ease."
The developed world has shown signs of acknowledging the limits of monetary policy after several years of implementing unorthodox measures, and is returning to the traditional notion of fiscal policy as the primary means of economic stimulus. Anderson said the move could prove "a bumpy transition" given political uncertainties in Europe and the unpredictability of the Trump administration.
Questioned on whether Europe could step up to take a global leadership role as the U.S. retreats and leaves a power vacuum, Anderson was skeptical.
"Certainly the Europeans should try, but what's unfolding in France at the moment I think is evidence that they may be challenged on that front if they're fragmenting, and there's a risk of a European breakup," she said, referring to France's looming presidential election and the rise of populist candidate Marine Le Pen. "It certainly leaves the door open for countries such as China to be on the ascendancy."
Back in Australia, the government is trying to cut its budget deficit in order to avoid losing the nation's AAA rating. Markets worldwide have shown little interest in such downgrades and Anderson reflected that view. "I wouldn't call it a concern, the probability is greater than 50 percent, but we're still very highly rated and I think that's the thing that I focus on, that it's still very strong," she said.
Before it's here, it's on the Bloomberg Terminal.
LEARN MORE