Paris Suburb Tense After Police Officers Charged With Rape
by
Peaceful march followed by incidents with youths; 24 arrested

Aulnay-sous-Bois is next to town where 2005 riots erupted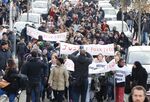 A Paris suburb saw scattered violence for the third night after four policemen were charged with seriously mistreating a local man close to where riots erupted 12 years ago.
A peaceful march by several hundred residents late Monday in Aulnay-sous-Bois north-east of Paris was followed by some youngsters vandalizing two restaurants and setting garbage cans and cars on fire, Europe 1 reported. Police made 24 arrests.
On Sunday, three police officers were charged with battery and another one for sodomizing a 22-year-old man with a truncheon after they'd stopped him for an identity control in a housing project on Feb. 2. The victim, whose first name is Theo, said in a video recorded by his lawyer and shown widely on French media that he had cooperated with the police before they started insulting and attacking him. Grainy scenes filmed by witnesses show the police surrounding and hitting the man as he falls to the ground.
Relatives of the victim said he'd never had any trouble with the law before.
Frederic Gabet, a lawyer for the policeman accused of rape, said his client admits the sodomy happened but insists it was "accidental."
Socialist Presidential nominee Benoit Hamon said Monday that the police actions were "unacceptable." National Front leader Marine Le Pen said on LCI television that "my basic principle is to support the police. We don't know under what conditions this arrest happened." Independent candidate Emmanuel Macron says he has "full confidence that the justice system will deliver the necessary answer to Theo and his family."
Francois Fillon of the Republican party, who yesterday said he's staying in the April presidential race after being ensnared in a graft investigation, hasn't yet said anything about the incident.
Aulnay-sous-Bois is just 6 kilometers away from Clichy-sous-Bois, where the death of two boys as they ran from a police identity check in October 2005 led to several weeks of rioting in troubled neighborhoods across France and the imposition of a state of emergency in parts of the country.
Before it's here, it's on the Bloomberg Terminal.
LEARN MORE