Lazard's Temple Says Time to Reshape Portfolio on Inflation Risk
By and
Chance of shift toward protectionism is 25%, Temple says

Best inflation hedges include short term debt, junk bonds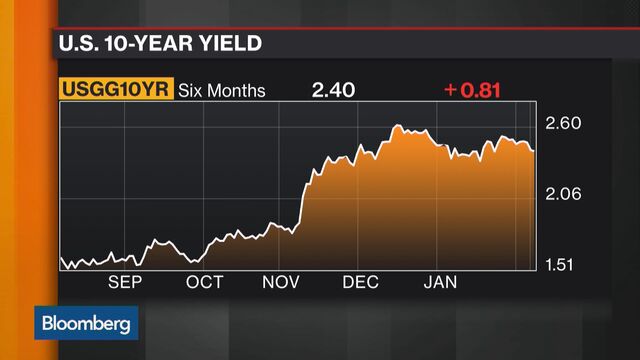 Investors are mostly unprepared for inflation at a higher sustained rate than seen in years and should shift into assets that could protect against the risk, according to Ronald Temple, the co-head of multi-asset investing at Lazard Ltd.
"Our lens really needs to shift from thinking of zero to 1 percent inflation as the risk, to 2-to-3 percent inflation being the risk," Temple, whose firm oversaw $198 billion at the end of 2016, said Tuesday in a Bloomberg Television interview. "The base case is a grinding higher of inflation, not a spike."
Political uncertainties under new U.S. President Donald Trump and elections in France have spurred investors to rethink their allocation of funds, even as stock markets have rallied to record highs. Temple said populist sentiment may spur more protectionist policies under the new regimes, reversing a 30-year trend of globalization and fueling domestic prices.
Neel Kashkari, the president of the Federal Reserve Bank of Minneapolis, said in an essay posted Tuesday that the central bank is below its inflation target. The job market has more room to grow and a strong dollar would push down prices, he wrote. He also cautioned that it's too soon to predict the impact of policies under Trump.
Still, Temple said short-duration debt is a good way to protect against inflationary trends, as are some emerging market and high yield securities, as long as they are carefully chosen. He said simply picking large-cap stocks is not enough and that Lazard is selecting securities by assessing "which companies empirically have proven that they can pass through cost increases to their customers, and protect their margins," he said. "We consider those companies to have pricing power."
Temple said there's a 25 percent chance that the world undergoes a structural shift that involves more protectionism and higher inflation.
"We should all be reconsidering our asset allocation based on that," Temple said. "You actually have a whole generation of investors who haven't really dealt with inflation pressure."
Before it's here, it's on the Bloomberg Terminal.
LEARN MORE