politics
Kelly Tells Lawmakers He Regrets Not Waiting on Entry Ban
By and
Republican Chairman McCaul says implementation 'problematic'

Kelly says border wall will be well underway within two years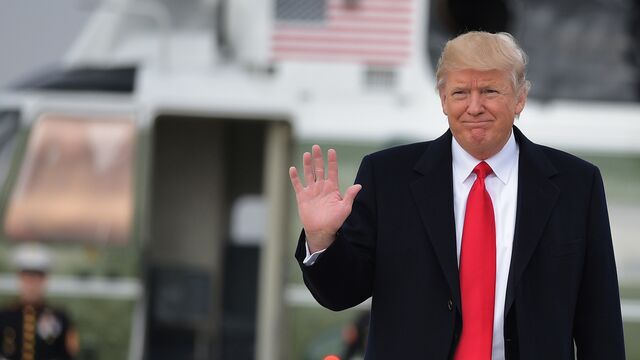 Homeland Security Secretary John Kelly said his agency should have delayed the Trump administration's immigration crackdown to help smooth its rollout, as a key Republican lawmaker criticized the implementation of border control measures the president says will help prevent terrorism.
"The thinking was to get it out quick" so potential terrorists would have no advance warning, Kelly said in testimony Tuesday to the House Homeland Security Committee, referring to President Donald Trump's Jan. 27 executive order. "In retrospect, I should have delayed it just a bit."
In his testimony, Kelly defended the measures, saying they're needed because "thousands" of Islamic State fighters have papers that could bring them to Western Europe and the U.S. The seven countries cited in Trump's order -- Iran, Iraq, Libya, Somalia, Sudan, Syria and Yemen -- don't have sufficient procedures in place to assure U.S. authorities that their citizens seeking to travel aren't threats to national security, Kelly said.
He also rejected the idea that Trump's order is effectively a "Muslim ban," saying the countries targeted are "in chaos."
"Of the 51 Muslim countries on earth, seven are on the pause list," Kelly said. "Not because they're Muslims, but because their countries are failed states."
Committee Chairman Michael McCaul, a Republican from Texas, said he was encouraged Trump took steps to intensify the vetting of people seeking to enter the U.S., including refugees, through executive orders. But he cited problems faced by permanent legal residents with "green cards," students and foreign military advisers who were initially caught up in the measure, which prompted protests at airports nationwide.
For a QuickTake Q&A on the refugee ban and legal battle over it, click here
"The rollout of his executive order has been problematic," McCaul said. "It caused confusion here in Congress, across the country, and around the world. And it caused real problems for people with lawful green cards and visas, who in some cases were already in the air when the order was signed."
Other lawmakers have argued that the restrictions undermine the U.S. abroad and may actually support terrorist recruitment efforts.
"This ban will make us less safe rather than more safe," Ben Cardin, the top Democrat on the Senate Foreign Relations Committee, said in an interview Tuesday on MSNBC. "We also know that Muslim countries are going to be less likely to work with us in our war against terror. We know that Americans abroad are going to more at risk."
Court Hearing
The Trump administration will argue to a panel of federal appellate judges in San Francisco on Tuesday for reinstatement of the president's order after a judge in Seattle put it on hold. While Kelly said the order is "lawful and constitutional" and he expects "we will prevail" in the courts, he said the administration is looking at additional screening even if the administration doesn't "get out from under the court order."
"Americans must feel safe to walk down the street, go to the mall, or to a nightclub anywhere and anytime," Kelly said. "Fear must not become the status quo as it has in so many parts of the world."
The appeals court said it isn't likely to rule on the issue Tuesday, though a decision will "probably" be made this week.
The top Democrat on the committee said Kelly wasn't to blame for flaws in the order because he had limited input on the measure, which was being drafted before he was confirmed as secretary.
'This Debacle'
"It is somewhat unfair that Secretary Kelly is being called upon to defend an executive order that, by most accounts, he was required to implement with almost no notice," Representative Bennie Thompson of Mississippi said. "The White House officials who directed the rollout of the Executive Order should be here to answer for this debacle."
Trump's order would bar Syrian refugees from the U.S. indefinitely, and block for 120 days all others fleeing their homelands claiming persecution or fear of violence. No citizens of the seven cited countries could enter the U.S. for 90 days. As of now, Kelly said, no additional countries were being considered for the list.
Refugee Children
Several lawmakers pressed Kelly to provide proof that people from the banned countries have committed terrorist acts within the U.S. Representative Sheila Jackson Lee, a Democrat from Texas, held up pictures of refugee children, asking why they're being blocked. She said the U.S. will be causing "a great deal of suffering" and asked the administration to reconsider the clampdown.
Kelly also told the committee his department is taking steps immediately toward constructing Trump's promised wall along the southern U.S. border, although he made clear it won't happen instantly and won't depend solely on a physical barrier.
Saying the project will be "well under way within two years," Kelly said, "I am committed to executing President Trump's plan to secure our southern border with effective physical barriers, advanced technology, and strategic deployment of law enforcement personnel."
(
Updates with senator's comment in ninth paragraph and court's statement on timing in 12th.
)
Before it's here, it's on the Bloomberg Terminal.
LEARN MORE