GM Aims SUVs at Shrinking Margin After Record Annual Profit
By
Automaker sees matching or beating last year's earnings

Shares drop most intraday in over a year amid higher inventory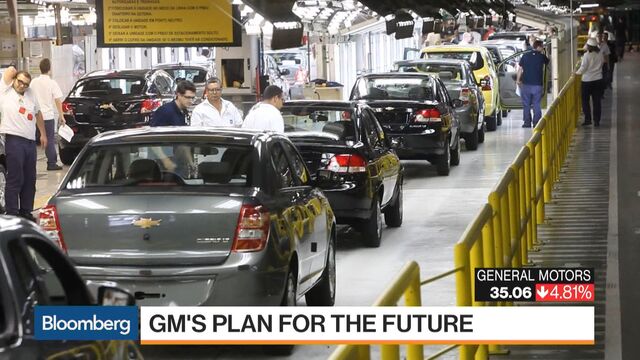 Swelling inventories, rising incentives and a flat U.S. auto market are stoking skepticism General Motors Co. can match or exceed last year's record results.
GM is counting on new versions of the GMC Terrain and Chevrolet Equinox and Traverse sport utility vehicles to help maintain or exceed the $12.5 billion in adjusted earnings before interest and taxes reported Tuesday. Those introductions may be needed to shore up its shrinking North American profit margin, as cars like the Chevrolet Cruze crowd dealer lots. Investors have their doubts, sending the shares down the most in more than a year.
Chief Executive Officer Mary Barra has laid off or dismissed workers making slow-sellers including the Cruze and Camaro sports car to begin the year. The cutbacks contrast with the pressure President Donald Trump has put on automakers to build new U.S. plants. GM instead is trying to address inventory that would take about 108 days to work through at January's selling rate -- more than a month's worth of extra supply compared with this time last year.
"People may be thinking that this is as good as it gets," David Whiston, an auto analyst with Morningstar Inc., said by phone. "The weakness in North America may have been alarming to some investors."
In the last three months of the year, GM's North American profit margin narrowed to 8.4 percent, from 10 percent a year earlier. The shares fell as much as 5.5 percent, the steepest intraday drop since August 2015. They traded down 4.9 percent to $35.04 as of 2:48 p.m. in New York.
Trump Bounce
The stocks of GM and its auto industry peers have been on the rise following Trump's surprise election win, in part because investors see a greater likelihood of easing regulations including fuel economy standards.
At the same time, proposed levies on imported parts and vehicles would add costs. The biggest U.S. automaker came out against House Republican-proposed plans for a border-adjusted tax for the first time Tuesday.
"We believe the border-adjusted tax is too complex," Chuck Stevens, GM's chief financial officer, said on Bloomberg Television.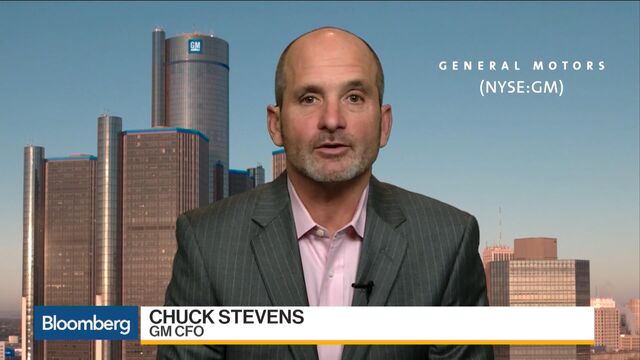 Tax policy could add to challenges emerging in the U.S., where GM spent almost $4,600 a vehicle on incentives in January, up 12 percent from a year earlier, according to Autodata Corp. Dealers are carrying as much as 11 months' worth of Buick LaCrosse sedans, the Woodcliff Lake, New Jersey-based researcher said earlier this month.
Boosting profits in spite of carrying too much supply may still be doable. GM can cut temporary workers at its U.S. plants without paying costly buyouts. It's already eliminated shifts at factories making the Cruze and Camaro, as well as the LaCrosse and Cadillac CT6 sedans.
Supply and Demand
"We have been and we will remain committed to balancing supply and demand because that is what really leads to pricing discipline," Stevens said.
GM has built inventory in part to prepare for introductions of new models including the Terrain, Equinox and Traverse SUVs, Stevens told reporters in Detroit, where the company is based. New vehicle makeovers often require down time at plants and slower early production to ensure quality of the initial vehicles coming off the assembly line.
"We will go from the oldest crossover SUV line to the youngest," he said.
In the fourth quarter, GM's adjusted earnings before interest and taxes fell $153 million to $2.6 billion in North America.
Revenue in the fourth quarter climbed almost 11 percent to $43.9 billion, topping the average projection for $41.2 billion.
Adjusted earnings rose to $1.28 per share, exceeding the $1.17 average prediction by 21 analysts.
Losses in Europe narrowed to $246 million in the quarter, a $52 million improvement from a year earlier.
GM's income in China during the last three months of the year declined 8.2 percent from a year ago to $525 million.
Watch Next: GM Reports Record Year, Projects More Growth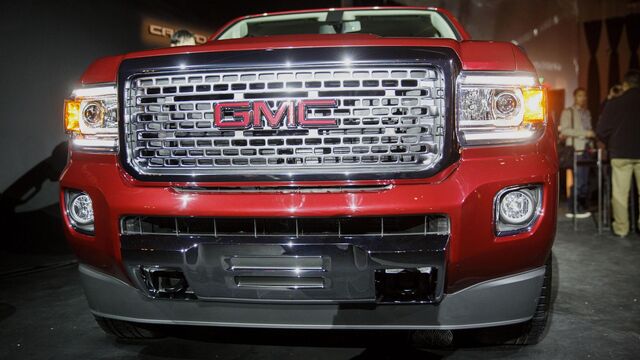 UAW Bonuses
Watch Next: GM Reports Record Year, Projects More Growth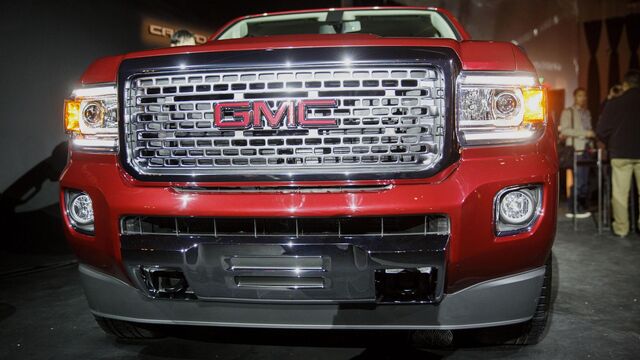 The United Auto Workers union, which also represents workers at Ford Motor Co. and Fiat Chrysler Automobiles NV, said its GM members will each receive as much as $12,000. The profit-sharing bonuses are tied to the company's North American earnings.
While GM is cutting checks to workers -- many of whom work in states that flipped for Trump in November -- Stevens said the automaker hasn't adjusted its production plans to take into account pressure from the president.
"This is a long-lead decision," he said on Bloomberg TV. "You just don't change a footprint, manufacturing locations overnight."
— With assistance by David Westin, and Keith Naughton
Before it's here, it's on the Bloomberg Terminal.
LEARN MORE