The 'Slow-Motion Terrorism of Pirate Capitalism'
Glass House is the sad story of how corporate America raided a glass manufacturer and left an Ohio town reeling.
By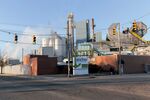 In the ranks of towns battered by deindustrialization, Lancaster isn't exactly the worst off. It's 30 miles from Columbus, making it part of one of the Midwest's most economically healthy metropolitan areas. The population, about 40,000, is growing. There's an Ohio University satellite campus. And not only is the old Anchor Hocking glass factory—long Lancaster's economic heart—still operating, but the town is also home to the headquarters of its parent company, the Oneida Group.
Ah, but therein lies a story. It's one of several that veteran journalist and author Brian Alexander tells in Glass House: The 1% Economy and the Shattering of the All-American Town ($26.99, St. Martin's Press), a melancholic but gripping account of his 13-month stay, from December 2014 to January 2016, in the troubled, drug-ravaged city where he grew up. There are tales of a heroin deal gone bad, an annual music festival fighting to survive, and people struggling to build a future in a place with a happier past. But it's the Anchor Hocking saga at the heart of it all that makes this book more than another elegy for good times in Middle America.
Anchor Hocking was one of several glassmakers that set up shop in Lancaster after cheap natural gas was discovered under the town in the 1880s. By the middle of the 20th century it had grown into a major corporation—in 1955 it was No. 286 on the first Fortune 500 list. It was never the city-defining corporate citizen that, say, Corning was and is in Corning, N.Y. But its executives and those of smaller rival Lancaster Glass lived in Lancaster, gave to its charities, and sent their kids to its schools. So did the glassworkers, who never got paid all that much but could count on receiving solid health and retirement benefits and having a pleasant, affordable place to live.
What changed this, in Alexander's telling, wasn't competition from Mexico or China—or at least not just that. "Corporate America is what happened," a local policeman tells the author. Alexander narrows that down, blaming it on "the slow-motion terrorism of pirate capitalism."
The first of the pirate-terrorists was Carl Icahn, who's still making headlines with his activist raids and his role as President Trump's special adviser on regulation. In 1982, Icahn acquired 6.1 percent of Anchor Hocking, grumbled about inefficiencies, and demanded a board seat. The company bought Icahn's shares at a $3 million premium, and he went away. But now Anchor Hocking was in play, and life was never quite the same in Lancaster.
A 1987 hostile takeover by the debt-fueled acquisition machine Newell led to the firing of most of the headquarters staff and a succession of other cutbacks and indignities during the next 17 years. Then, starting in 2004, came the private equity era: Anchor Hocking fell into the hands of Cerberus Capital Management, then Monomoy Capital Partners. In both cases, the parent companies the private equity firms established to run Anchor Hocking became burdened with debt and ended up filing for bankruptcy. Under Oneida, Anchor Hocking is part of an assortment of "tabletop and food preparation" brands. Alexander doesn't see a bright future.
There are those who argue that leveraged acquisitions and restructurings of the sort that Anchor Hocking has endured make companies more efficient and steer capital to better uses. Maybe they're right. Alexander makes a persuasive case, though, that from the perspective of Lancaster, it's been one big fleecing. Every acquirer of Anchor Hocking squeezed concessions out of workers and local governments in the supposed interest of keeping it competitive. Only rarely did they reinvest any of those savings in the glass factory or the town. Instead, they kept pulling money out of Lancaster, over and over, leaving behind a city with a weakened economic base and a shredded social fabric—and precious few resources to repair them with.
Before it's here, it's on the Bloomberg Terminal.
LEARN MORE