Merkel's Main Challengers Cast Doubt on One Path to Removing Her
By and
German Social Democrat says rival Left may be unfit to govern

North Rhine-Westphalia premier Kraft parses election options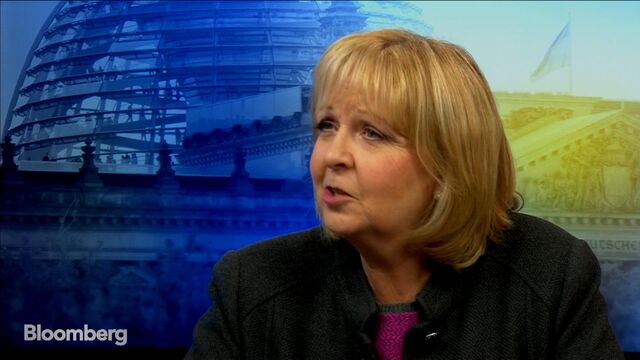 Germany's anti-capitalist Left party may be unfit for national government unless it moves toward mainstream policies, according to Hannelore Kraft, the Social Democratic premier of the country's biggest regional economy.
Kraft's comments in a Bloomberg Television interview cast doubt on a potential three-way coalition with the opposition Left and Greens as the Social Democrats, buoyed by a surge in the polls, consider ways to oust Chancellor Angela Merkel after Germany's Sept. 24 election. A poll on Monday suggested such a coalition would be possible if elections were held now.
Kraft, who's on the SPD's 11-member national leadership and heads North Rhine-Westphalia state, cited the Left's stances on the European Union and the North Atlantic Treaty Organization. The Left, made up of labor activists and remnants of the former East German communist party, says it wants to dissolve the military alliance.
"These are very important points for us in the SPD, so the Left will have to shift significantly," Kraft, 55, said on Monday. "I'm personally very skeptical when it comes to the Left Party, particularly because of their positions on Europe and NATO." 
SPD Surge
With the first poll since at least 2010 suggesting the Social Democrats under Martin Schulz have overtaken Merkel's Christian Democratic-led bloc, Kraft said German voters are in the mood for change after the chancellor's 11 years in office. Unlike in the 2013 election, which Merkel won on the back of her personal popularity, the Christian Democrats will have to do more to persuade voters, Kraft said.
"Certainly that wasn't the case in the last election," she said. "It was enough for Merkel to say 'you know me.' That won't be enough anymore."
Merkel underscored the point after Bavaria's ruling Christian Social Union backed her candidacy for a fourth term on Monday despite months of attacking her refugee policy and demanding a cap on migration. Merkel said the CSU and her Christian Democratic Union have "quite a fight ahead."
The unexpected entry of Schulz, the former European Parliament president, has upended German politics. Merkel's bloc slid to 30 percent and the SPD climbed 10 percentage points in two weeks to 31 percent, according to an INSA poll for Bild newspaper published Monday. The poll put the Left at 10 percent and the Greens at 7 percent, suggesting they'd have enough support to enable a three-way government led by the SPD if elections were held now.
Green Partner
Kraft, who governs with the Greens in North Rhine-Westphalia and has been premier since 2010, faces a tight race in a state ballot in May. After the last national election in 2013, she initially opposed a coalition with Merkel with the Social Democrats as junior partner. Yet the SPD managed to push through policies such as a nationwide minimum wage and rent controls, she said.
"I was among those who were particularly skeptical," Kraft said. "But we fought for a lot of good issues in the coalition agreement."
— With assistance by Birgit Jennen
Before it's here, it's on the Bloomberg Terminal.
LEARN MORE