Fed, BOE Join Pimco's Cold Currency War With Covert Depreciation
By
Central banks using dovish messages to weaken currencies

Fed statement, BOE's NAIRU revision were similar measures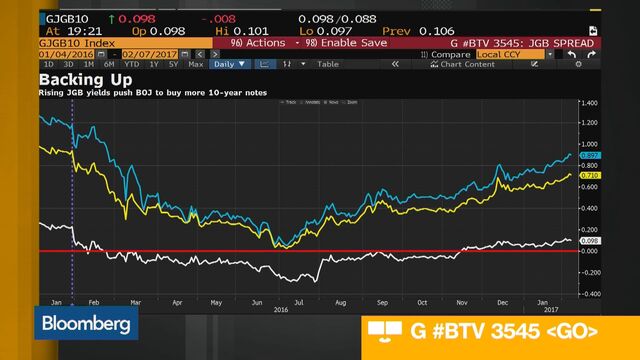 The Federal Reserve and Bank of England are the latest central banks to step into what Pacific Investment Management Co. says is a new "cold currency war."
While the central banks of the euro area, Japan and China all took covert actions to depreciate their currencies during the second half of 2016, the Fed has struck back by attempting to restrain interest-rate expectations, according to Joachim Fels, Pimco's global economic adviser. In the U.K., BOE policy makers are attempting to weaken the pound with a cut to their estimate of the rate that unemployment can fall to without fanning inflation, he said.

"Cold wars are not fought in open battle but with covert actions and words," Fels said in an e-mailed report. "The Fed, in its post-FOMC meeting statement on Wednesday, refrained from trying to push the already low March rate hike expectations higher through more hawkish language." Meanwhile, the BOE's steps sent "a dovish signal that helped depreciate the pound," he said.
A gauge of the dollar fell to an 11-week low the day after the Fed's Feb. 1 policy announcement, while sterling dropped 1 percent after the BOE decision.
The new U.S. administration of President Donald Trump is less likely to tolerate dollar strength and "much more willing to use the nuclear weapon" of protectionism, Fels said. For now Europe, Japan, China and other exporters may respond by allowing some appreciation in order to avoid any escalation by the U.S., he said.
Even so, Bundesbank President Jens Weidmann said in a speech Tuesday that the recent accusations by Trump's top trade adviser that Germany is manipulating currency markets are worrying. Peter Navarro, the head of the White House National Trade Council, told the Financial Times that Germany's excessive surplus is a sign of a "grossly undervalued" currency.
German Chancellor Angela Merkel and Finance Minister Wolfgang Schaeuble have also responded to the U.S. claim, arguing that the exchange rate is influenced by European Central Bank policies, which are set independently, a point Weidmann echoed.
Before it's here, it's on the Bloomberg Terminal.
LEARN MORE