Islamist Militants Step Up Attacks as Somalia Chooses President
By
Lawmakers choosing head of state for war-torn African nation

Al-Qaeda-linked militants frequently attack capital, Mogadishu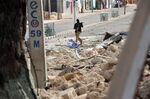 Islamist militants stepped up attacks in Somalia as lawmakers gathered at the capital's heavily fortified airport to choose a new president in a vote that's been delayed for months and roiled by corruption allegations.
Militants fired mortars into several areas of Mogadishu and threw grenades at security checkpoints in the city late Tuesday, without causing any casualties, according to police. An assault by gunmen on a hotel in the semi-autonomous northern region of Puntland left at least four people dead.
Al-Qaeda-linked fighters also attacked an African Union military base at Albao, 20 kilometers (12.4 miles) northwest of Mogadishu, and were repelled, the African mission said on its Twitter account.
Somalia's 329 lawmakers will choose from 22 candidates, including incumbent Hassan Sheikh Mohamoud, who are looking to lead the nation that descended into civil war among a myriad clan militias in the late 1980s and battled an Islamist-militant insurgency for the past decade. The government has gradually regained territory from the al-Shabaab group and is now seeking investors to exploit its potential oil and gas reserves.
Originally set for Oct. 30, the vote has been delayed four times as clan elders jockeyed for lawmaker posts and the auditor-general alleged that as much as $1.3 million changed hands for some individual seats, the securing of which could sway the presidential election.
Political Process
"It's not really an election -- it's really a political process involving negotiations between clans and sub-clans," said Michael Keating, the United Nations special representative for Somalia. "The process reveals how weak Somalia institutions are -- there is no constitutional court, no independent electoral body, there is no voter registry -- because of all that it's very difficult to track what is going on and how you police it."
Somalia's civil war and subsequent Islamist-militant insurgency have destroyed much of the country's political and economic institutions, according to the World Bank, with income per capita of $435 making it the world's fifth-poorest country. The International Monetary Fund has said the country may be eligible for financing if it improves its management of the $6-billion economy, which ships camels to Gulf Arab nations.
Oil and gas output may begin by 2020 after exploration work showed the potential for large offshore deposits, with companies including Royal Dutch Shell Plc, Exxon Mobil Corp. and BP Plc in talks about returning, according to the presidency.
Economics, too, have played a part in Somalia's vote. During a political process that started in September to choose lawmakers and then the nation's leader, there's "definitely been money changing hands," Keating said by phone from Mogadishu. That's "a reflection of the way Somalia works."
Swearing-In
The winner of the presidential election will be sworn in immediately at the voting venue in the presence of security forces and international observers, Keating said. "Everything will go on in that one sitting," he said.
Al-Shabaab once controlled Mogadishu before being forced out in 2011 by the army and African Union forces. Countries including Kenya, Ethiopia and Uganda contribute to the 21,000-troop, internationally funded African mission. While that force has helped recover much of the country's south from the Islamists, al-Shabaab still stages frequent attacks and Kenya and Uganda have signaled they'll withdraw troops in the next two years.

The airport is Mogadishu's safest location for Wednesday's meeting due to the presence of foreign troops, but there's still a high risk that al-Shabaab will try and disrupt the vote, said Emma Gordon, an analyst with Bath, England-based Verisk Maplecroft.
In the longer term, the inclusion of Somalia's federal member states in the elections, giving them influence in both upper and lower houses of parliament, may help the battle against the militants, according to Matt Bryden, executive chairman of Sahan Research, a Nairobi, Kenya-based institute.
"This should impose an unprecedented level of consultation and cooperation between Mogadishu and the regions, not only on security, but a broad range of state-building challenges," he said in an e-mailed response to questions. "That's bad news for al-Shabaab, since it thrives in a political and institutional vacuum."
The current president and prime minister as well as former head of state Sheikh Sharif Sheikh Ahmed are among the front-runners in Wednesday's vote, according to Bryden. Yet because none is likely to win two-thirds of initial ballots, a second round is probable and "that's when all bets are off," he said.
"The legacies of civil war and state collapse can't be erased overnight," Bryden said. "Warlords-turned-politicians, identity-based politics and the remnants of the war economy are likely to be with us for some years to come."
— With assistance by Mohamed Sheikh Nor
Before it's here, it's on the Bloomberg Terminal.
LEARN MORE