Europe Stocks Rise as FTSE 250 Hits Record, Property Gauge Jumps
By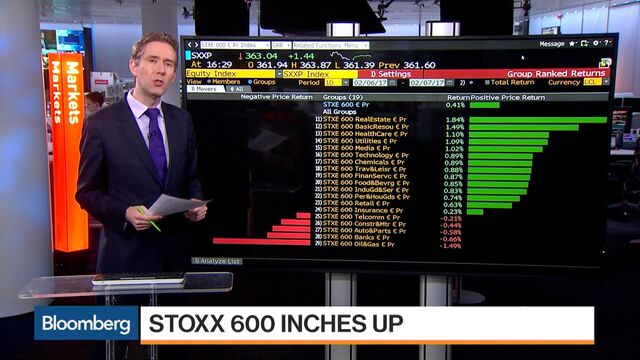 European stocks advanced as the FTSE 250 Index of midcaps jumped to record close and real estate companies gained.
Property companies were buoyed as bonds rallied across Europe and lifted shares that are bought as proxies for fixed income. The effect hurt banking shares, which retreated for a second day along with German debt yields, amid simmering worries over Europe's political risks, and after BNP Paribas's results missed estimates. The U.K.'s FTSE 250 climbed 1 percent to an all-time high.
The Stoxx Europe 600 Index closed 0.3 percent higher, with the property sector gaining 1.7 percent. The broader index dropped 0.7 percent on Monday, as investors turned cautious on the region's assets after French presidential candidate Marine Le Pen over the weekend unveiled a manifesto pledge to take the country out of the currency bloc should she win.
The Euro Stoxx 50, a gauge of euro-area shares, ended the session little changed after breaking below its 50-day moving average on Monday, sending a bearish technical signal.

BNP Paribas

fell 4.8 percent to a two-month low, after posting fourth-quarter profit that missed estimates.

The FTSE 250 Index, home to smaller, more domestically oriented companies, has risen 2.7 percent this year, compared with a 0.6 gain in the FTSE 100 Index of megacaps.

Shares in BP Plc fell 4.1 percent after the oil company reported fourth-quarter earnings that missed analyst estimates as higher crude prices failed to fully compensate for lower income from refining.
Data showed German industrial production unexpectedly fell in December, led by a contraction in manufacturing and construction.
BlackRock Inc. has raised its exposure to European stocks to overweight from neutral, saying investors have become "too skeptical" on the region, while the risk priced into the upcoming German and French elections is "overstated."
— With assistance by Elena Popina
Before it's here, it's on the Bloomberg Terminal.
LEARN MORE