BHP Workers Dig in for Strike at World's Biggest Copper Mine
by
Union and company remain divided in several key aspects

Still one day remaining in five-day extension of talks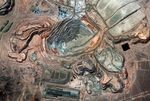 Workers at the world's biggest copper mine vowed to start an indefinite strike Thursday as talks with BHP Billiton Ltd. failed to produce an agreement following weeks of collective bargaining in Chile. Prices climbed.
"We will start what is maybe the most important union fight that this country has seen in recent times," the union representing about 2,500 workers at the Escondida mine said in a statement Tuesday. BHP responded by saying that production would stop in the event of a strike.
Management refused to budge from its previous position after four days of a scheduled five-day extension in negotiations, Carlos Allendes, a union spokesman said by phone. The union decided not to take talks into a fifth and final day and is getting paperwork in order to begin the strike, he said.
Copper has surged more than 20 percent since mid-October as stockpiles tracked by the London Metal Exchange shrank. Goldman Sachs Group Inc. says prices could exceed its six-month target of $6,200 a metric ton because of potential supply disruptions, including at Escondida, that could force the market into a deficit. The metal advanced 1.3 percent on Wednesday to $5,869 a ton.

"We are brothers in this fight," the union said in today's statement. "We have spent a good part of our lives in that mine and some of our beloved colleagues have lost their lives to quench the thirst of profit of foreign investors. Now they will know what Chilean miners are made of."
A 25-day strike at the same mine in 2006 was the longest in Chile in at least a decade, the union said. Union leaders say for talks to continue the company needs to consent to using the 2013 contract as a starting point, not increasing working hours and not distinguishing between new and existing workers. 
Workers are also demanding to sign a 36-month contract that would include a 7 percent wage increase and a 25 million-peso end-of-conflict bonus. BHP is proposing a 48-month contract with an 8 million-peso end-of-conflict bonus and no wage increase.
"We assume that we will not produce during this period, because a strike of operators and maintenance workers does not guarantee the conditions to secure the safety and integrity of our workers," Patricio Vilaplana, vice-president of corporate affairs at the mine, said in an e-mailed statement.
Before it's here, it's on the Bloomberg Terminal.
LEARN MORE