China New Loans Said to Near, Potentially Beat Monthly Record
Bloomberg News
January new lending could exceed 2.5 trillion yuan record

Credit surge highlights challenge to reducing leverage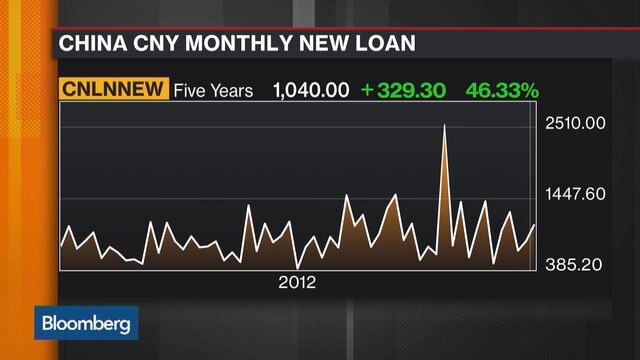 Partial government data for January showed China's new lending was near, and possibly exceeded, the previous monthly record, according to people familiar with the matter.
Regulators estimate new loans rose last month to a range that could exceed the 2.5 trillion yuan ($364 billion) record in January 2016, said the people, who asked not to be identified because they aren't authorized to speak publicly. The People's Bank of China report due for release in coming days will show new loans increased to 2.41 trillion yuan in January, according to the median of analyst estimates in a Bloomberg survey as of Tuesday.
It's not clear whether the partial January lending data factored into the central bank's move on Jan. 24 to increase interest rates on the medium-term loans it uses to manage liquidity. The rates are becoming one of the main policy tools as the central bank moves away from old benchmarks.
The credit surge highlights the challenge policy makers face as they strive to prioritize reducing leverage and deflating asset bubbles this year. The central bank has ordered lenders to strictly control new loans in the first quarter of the year, people familiar with the matter told Bloomberg last month, in another move to curb excess leverage in the financial system.
The PBOC didn't immediately respond to faxed questions seeking comment.
PBOC Assistant Governor Zhang Xiaohui said in a recent article that although monetary policy has been prudent since 2011, there has also been a tendency toward slight easing in practice due to downward economic risks and financial market turbulence.
The possibility of further tightening action in the money market can't be fully ruled out, given the strong loan growth and deleveraging, said David Qu, markets economist at Australia & New Zealand Banking Group Ltd. in Shanghai.
"Monetary policy has entered an unclear period," he said. "We still think that the PBOC should maintain the overall liquidity condition, so a sharp tightness should be a low possibility."