business
Why Poland Is Being Drawn to Its Wartime Foe
By and
Governing party leader Kaczynski has criticized Germany

The two countries need each other more in the new world order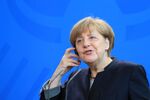 As German Chancellor Angela Merkel discussed Europe's future on a visit to Poland, she won an unlikely endorsement from her sometimes prickly eastern neighbor.
Jaroslaw Kaczynski, the governing Law & Justice party leader, in effect backed Merkel's bid for a fourth term, saying he prefers her to Social Democrat candidate Martin Schulz, who said last year that Poland was turning into a democracy resembling Russia. "Frau Merkel would be best for us," Kaczynski was cited as saying in an interview with Frankfurter Allgemeine Zeitung newspaper on Tuesday.

Relations cooled after a change of government in Warsaw 16 months ago led to a clash with the European Union, which believes the independence of Polish courts and media has been undermined, weakening the rule of law. Merkel was personally rebuffed last year when the Polish government refused to implement an EU agreement to accept refugees, despite her repeated pleas for a European solution to the biggest migration crisis since World War II.
Fast forward to 2017 and the wartime foes are being drawn together. U.S. President Donald Trump's overtures to Russia's Vladimir Putin -- in stark contrast to Merkel's role in imposing European sanctions on Russia -- and the shared German and Polish interest in keeping the EU together mean the two countries now have more in common.
Rule of Law
Poland's Primer Minister Beata Szydlo said after meeting Merkel on Tuesday that the two countries' partnership was important for deciding the EU's future. The German leader injected a personal note, telling reporters she's looking to Szydlo's government to build on the democratic legacy of the Solidarity movement, which helped to overthrow Polish communism and crack the Berlin Wall that came down in 1989.
"Without Solidarity, perhaps European unity and the end of the Cold War wouldn't have occurred so quickly, nor German reunification," Merkel said. "From this time, we realized how important pluralistic societies are, how important independent justice systems and media are –- because those are the things that were missing back then."
Germany also needs to keep Poland onside with the EU facing its biggest-ever test of unity following Britain's decision to leave. For its part, Poland is the largest single recipient of EU money and the government is relying on the funding to keep the economy growing as private investment stalls. Germany is also by far the country's biggest trading partner.
EU's Paymaster
"Merkel is now making a much bigger effort to keep Europe together and that's what this visit is about, despite all the differences,'' said Judy Dempsey, a senior fellow at Carnegie Europe in Berlin and author of "The Merkel Phenomenon." "She hasn't done a bad job so far and I think Warsaw would like her to continue doing this.''
Read more: A QuickTake explainer on Poland's populism
In a signal of the importance of Tuesday's trip, Merkel met Szydlo, Poland's President Andrzej Duda as well as Kaczynski, the real power in the country.
Merkel wants to hear if Poland will support the four main points of a declaration on the EU's future to be adopted in Rome next month. There's a broad agreement between Poland and Germany on the single market, European security and policies to boost employment for youth, though some differences remain over immigration, according to a source close to the German government. Brexit is also being discussed.

Pragmatism ultimately will trump politics, according to diplomats. Economically, Poland's trade with Germany amounts to more than $100 billion a year. That's about 28 percent of total imports and exports and more than the next five countries combined. 
"Despite all the rhetoric, business is business,'' Krzysztof Kalicki, chief executive officer of Deutsche Bank AG's Polish business for the past 16 years and a former deputy finance minister, said in an interview at his office. "We need to reduce uncertainty around the politics, regulation, the legal framework and taxation. It's important to also talk about these issues, which matter to economic cooperation.''
Eastern Bloc 
Merkel and her Polish hosts share a common background in the former eastern bloc. As a young woman, she traveled from her home in what was then East Germany to Poland when Solidarity was agitating against the communist government, and has since holidayed in the Polish Baltic Sea region near Gdansk. 
She met Kaczynski when he was prime minister a decade ago. This time around, the Law & Justice government has come under unprecedented EU scrutiny for undermining the rule of law and its politicians have long played on some anti-German sentiment in Poland to a local audience. On the eve of her visit in Poland, Kaczynski blamed her for German media critical coverage of the Polish government.
After talks with the chancellor, the Law & Justice chief told reporters that the two leaders discussed the future of the EU after the Brexit vote. "I hope the visit will bring good results," Kaczynski said according to a Twitter account of his party.
Poland has opted for a revision of European treaties to strengthen national interests and limit European Commission prerogatives to avoid further divisions in the bloc.
"Brexit may be only be the tip of the iceberg as we see more anti-union movements gaining support," Ryszard Legutko, Law & Justice's member of European Parliament who participated in the Kaczynski-Merkel talks, told TVP Info broadcaster. "We have an urgent need to diagnose the situation and fix it."

The German chancellor also has been a supporter of Donald Tusk, the former Polish prime minister who now is EU president. Kaczynski has said a second term for Tusk, who was part of the opposition Civic Platform, is a "bad idea'' and Szydlo said on Tuesday that the government hasn't yet made up its mind on whether to back him. Merkel will also meet Grzegorz Schetyna, the current leader of Civic Platform.
The European Commission has said that Poland has "persistent" issues with upholding democratic standards after Law & Justice ignored the rulings of the Constitutional Court which struck down its laws, revamped the panel and packed it with its appointees. The government, which last year put state-held broadcasters under direct government control, is working on a draft to place limits on media ownership, potentially hurting German and U.S. investors whose Polish news outlets are often critical of the government.
— With assistance by Arne Delfs, Adrian Krajewski, Marta Waldoch, Barbara Sladkowska, and Konrad Krasuski
(
Updates with Kaczynski's comments from fitheenth paragraph.
)
Before it's here, it's on the Bloomberg Terminal.
LEARN MORE